ENOUGH WITH THE SMALL TALK. HOW'D IT GO?
I got across the red bricks and up and down the hills of Tyler and 42:20, 1:33 faster than the same race 2 years ago and 1:10 faster than any other 10K I've run.
DID YOU WIN?
I was hoping to break 42:00, but considering the 70-degree weather and harder-than-I-remembered course, I was more than happy with my time. I took 3rd of 28 in my age group and 22nd of 657 overall.
HOW'D THAT HAPPEN?
After a 4:25 a.m. wake-up and extremely sleepy drive to Tyler, I downed an Amp and jogged around the neighborhood. I wasn't drenched in sweat yet but the temperature and humidity were apparent.
I controlled my start much better than my last race, taking the downhills comfortably without zooming down them. By the 2-mile mark I knew my stretch goal of 40:30 wasn't going to happen, but I felt strong. The winds were nowhere near as fierce as predicted.
I reached the halfway point in about 20:40 and thought 41:20 would be a great number for today. But that pretty much went out the window with the half-mile hill starting just before the 4-mile mark, and got further away as we kept ascending more or less all the way to the finish. Sure we started and finished at the same spot so the net gain was zero, but it sure seemed like the uphills did more harm than the downhills did good.
WHAT ELSE?
The advertising is not hyperbole: This is probably the most picturesque course in Texas. Most every house along the course has lovely, huge azalea bushes, all in bloom, and the red brick pavers make the experience feel even more historic. It's almost enough to make you forget that if you blink you'll miss the flat parts.
The aid stations were ideal: water on one side of the street, Powerade on the other side, with signs advising of such beforehand. I enjoyed having one less thing to think about.
Normally I don't care about finish-area music (because it's mostly horrible), but a little bit of background noise would have been nice during the extended wait for the awards ceremony. I milled about for much longer than it took me to run the actual race.
SPLITS?
6:36
6:42
6:35
6:45
7:06
6:56
7:00 pace last .25
OK, WHAT ABOUT THE REAL REASON WE ALL RUN, THE STUFF?
This year Mellew upgraded the shirt to a tech shirt, and a nice one at that. Age-group awards were the standard glass plaques: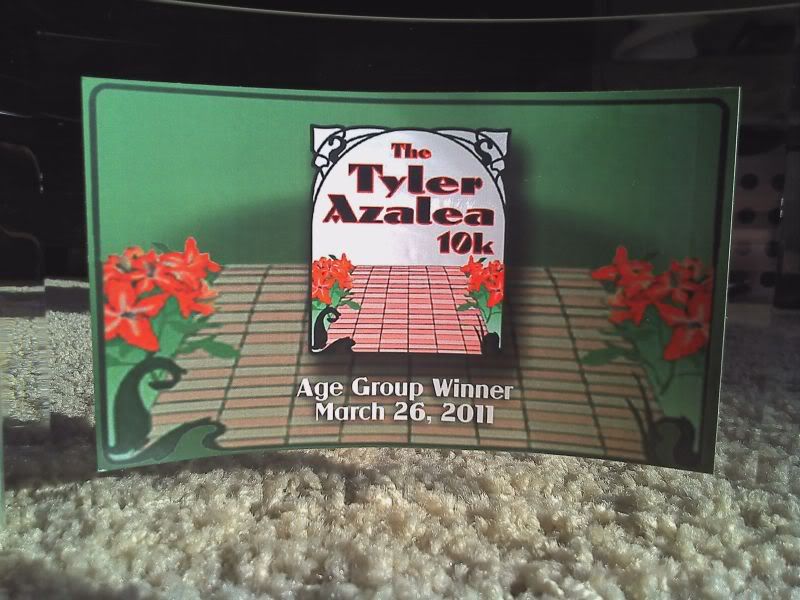 WHAT'S NEXT?
Rock 'n' Roll Dallas Half Marathon, tomorrow.