ENOUGH WITH THE SMALL TALK. HOW'D IT GO?
I ran a 3:26:24 marathon on Saturday and a 4:01:18 on Sunday, but did not start Monday's race because of a couple large blisters on my right foot that would have made 1 mile quite painful, let alone 26.2.
DID YOU WIN?
This is a tough one to categorize. Technically, I did win Saturday's race, beating 28 other entrants. And I was 2nd of 26 on Sunday (1st male). But the fields were largely noncompetitive (on Saturday, I lapped some folks 4 times on an 8 1/2-loop course), and beyond that, my entire goal for the weekend was to finish my first triple. So though it may seem like I'm beating myself up in spite of a couple of good runs -- I took almost 30 minutes off my previous back-to-back marathon best -- I'd have to say no, I didn't win.
HOW'D THAT HAPPEN?
It took about 5 seconds to get to the front of the pack on Saturday. We ran the partial loop first, out and back, and at the turnaround about eight-tenths of a mile out I already had a pretty good cushion. So I forgot about everyone else for a while and just ran.
A little over half the loop was on smooth asphalt or sidewalk, but the south side of the lake gave us heavily cracked, uneven asphalt that tested my ankles as much as running on singletrack would. By the fifth time around, I was concerned that my ankles wouldn't make it through one day, let alone three. On the next loop, a pebble got under my foot somehow. If I were locked into a tight race or deeply concerned about my time, I might've just pushed through, but since I figured I had plenty of time, I stopped at the end of the loop to fix my shoe. I asked the volunteer how far ahead I was, expecting to hear something like 20 minutes. "Six minutes," she said.
A 6-minute lead with 6 miles to go and a warm, humid morning were both uncomfortable, so I got back to work. I figured the guy behind me was catching up, since pretty much everyone in my peer group manages races better than I do, but after another loop, he was now 7 minutes back. With that, I finally eased up and started thinking about Sunday.
I had a couple blisters on my right foot, but they weren't bothering me so I hoped a little extra Aquaphor would keep them from getting worse the next day. The guy who finished 2nd on Saturday wasn't running Sunday, so I was even less concerned about being chased. I was much slower right off the bat, but I was still running all alone out in front so once again I focused on just staying in control.
Nearing the end of the third loop, I looked back to see if anyone was behind me. The female winner from the day before was about 3 minutes back, but looking much stronger than I was. By the same place on the course a lap later, she'd cut the deficit in half. And by the time we got around there again, she was in front.
At that point the cumulative effect of the two days was setting in. The hot spot under my right heel was the greatest concern, but my tank was low generally. For the last 10 miles I'd walk a tenth and then run the rest of the mile, until I got to the last mile, when I was really out of gas. I really wanted to get in under 4 hours, but it just wasn't there.
I went home and repeated my routine from the day before, resting and eating as much as I could. The blisters from Saturday were worse, but the heel issue was still the biggest deal. I just hoped that staying off my feet would be all I needed.
But when I got dressed Monday morning, put my shoes on and started walking around, I couldn't take a step with my right foot without wincing. The inside edge of the ball of my big toe was bothering me as well, so it was just impossible to come up with a stride I could manage. I threw together a few sock combinations but nothing helped. It was time to go, and I couldn't go. I went back to bed.
WHAT ELSE?
Somehow I'd managed to get through many long runs in traditional running shoes with only minor blister issues, but after running almost entirely in Altras and Merrells for much of the last year, going back to Mizunos was something my feet couldn't handle. I've rarely been a brand loyalist and have generally been able to wear any shoe, but the wide toe boxes of Altra and Merrell might now be something I just can't give up, especially for long runs.
These are very low-key races, practically unheard of by anyone outside the inner circle of very frequent marathoners who run them. Let's not kid ourselves, they basically exist for people to run up their stats, either to move up in Marathon Maniacs rank (as I was attempting) or just add to the lifetime tally. That doesn't mean they're to be avoided, but there's little use in running just one day if you're not going to run all three. As I said, the course is quite rough on the lower legs; those folks who mosey along at 7-hour pace might be onto something.
SPLITS?
(Saturday/Sunday)
7:07/7:49
7:06/7:53
7:23/8:11
7:36/8:26
7:33/8:35
7:34/8:41
7:30/8:32
7:33/8:24
7:38/8:22
7:32/8:31
7:45/8:22
7:37/8:42
7:49/8:48
7:36/9:03
7:31/9:16
7:44/9:07
7:57/9:39
7:55/9:29
7:59/9:29
8:04/9:55
8:38/10:06
7:57/9:53
8:07/10:12
8:32/10:23
8:41/10:17
8:54/12:09
8:29/9:08 pace last .37/.34
OK, WHAT ABOUT THE REAL REASON WE ALL RUN, THE STUFF?
You get a goodie bag with a T-shirt and a few trinkets for entering. The medals are of the spinning variety but the reverse side carries only a generic "we support the Boston Marathon" message from the manufacturer (I assume this is temporary). The male and female winners get trophies: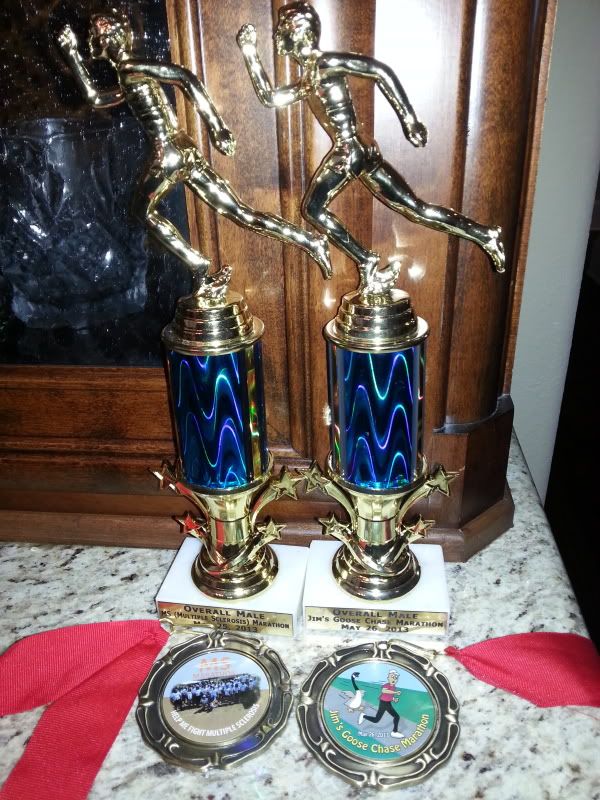 WHAT'S NEXT?
Liberty 10K, July 4.