ENOUGH WITH THE SMALL TALK. HOW'D IT GO?
Very pleased with how this went. I aimed for 1:35 and was right there at 1:35:12. Adjusting for weather that's right at PR pace, or perhaps a few seconds under. I'm plenty satisfied.
DID YOU WIN?
With a reported field of 2,200 runners, I just wrote off any chances of taking home an age-group award. So it was a little bit of a gut punch to finish 4th of 138 in my age group, just 49 seconds out of 3rd. Those looked like pretty nice trophies, too. Oh well. Overall I was 29th of 1,813 finishers (must have been a lot of DNS/DNFs).
HOW'D THAT HAPPEN?
It's becoming clear that 13.1 is becoming my favorite distance. It's long enough to be a real workout but not so long that it takes me to the point of physical or mental breakdown. And while it's wrapped up in a reasonable hour and a half (if I do it right), there's enough room for forgiveness if I veer off the plan and need to catch up.
The key word there is plan. I think I've gone into my last 5 of these with a good plan that's given me some predictability and consistency in my results, and that was the case again today. I suppressed the opening-mile rush as much as I could, keeping an easy 4-4 breathing pattern. Even though it was still my fastest mile, I used very little energy getting there.
Past the mile marker, I shifted to the 3-3 pattern I normally use for the first 80 percent of my halfs. Other than the climb up to the spillway, I really didn't feel that taxed, even as I could tell the heat was coming on. An appreciable tailwind certainly helped.
Of course, what goes around comes around when you're running around the lake, and after crossing the bridge and turning south for the last 5K, that wind came around and was in our faces. I soon picked up my effort as I normally would in the closing minutes of a half, but the increased effort did not result in a quickened pace. The time I had banked to get in under 1:35 was used up, and I raced across the line a few seconds after my goal time.
WHAT ELSE?
The Dallas Running Club scrapped their normal May club race to put on this one-time event, and boy did they knock this one out of the park. From the frequent and clear pre-race communication about parking all the way through to the post-race goodies, this was an exceptionally well-produced event.
Comerica put inspiring messages on each of the oversized mile markers. Drink stations were thoughtfully jammed in no more than 1.5 miles apart; I skipped 2 on purpose, there were so many. Post-race pizza, beer and Muscle Milk were quite welcome -- OK, I couldn't find the beer, but it would've been delicious, surely.
SPLITS?
6:57
7:04
7:03
7:09
7:03
7:13
7:23
7:13
7:13
7:14
7:27
7:25
7:24
7:09 pace last .20
OK, WHAT ABOUT THE REAL REASON WE ALL RUN, THE STUFF?
Not that anyone will ever get this stuff if they didn't run today, but there was premium swag to be had, starting with the event shirt, a sharp-looking Adidas tech shirt with the familiar 3 stripes on the sleeves. The finisher medal is lightweight but large, with a section on the back designated for engraving: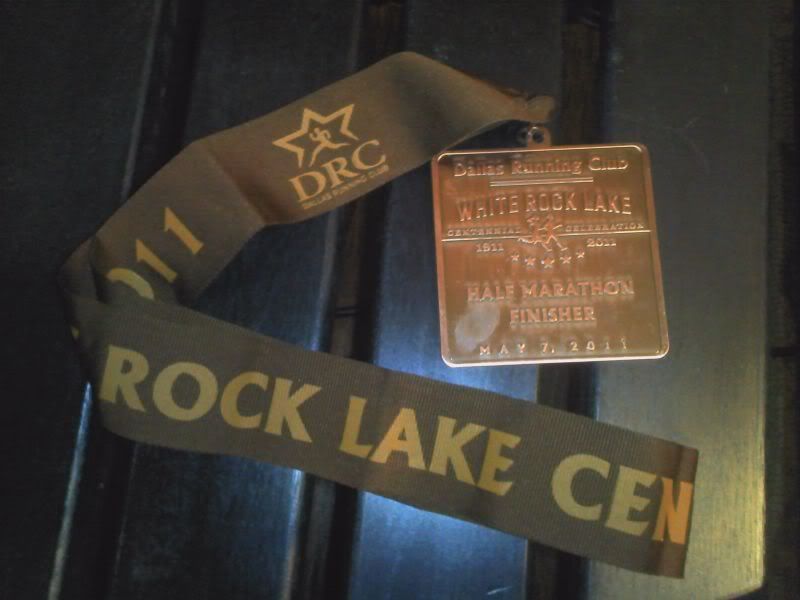 Everyone also got a pint glass with the DRC and Centennial Celebration logos:
Maybe I don't get out enough but I happen to love the glass as a race premium, especially given that it was not announced beforehand. Compare that to the patch with the same logo that we all got; eh, it's nice, but I'm just not a patch guy. I should've seen if someone wanted to trade a glass for an extra patch.
WHAT'S NEXT?
Grandma's Marathon, June 18.