ENOUGH WITH THE SMALL TALK. HOW'D IT GO?
By the clock, my time was positively average -- but by the Brookstone combination indoor/outdoor weather station you might give as a Father's Day gift that has both a clock and a thermometer, it was as damn solid a 3:40:46 as I could have come up with.
DID YOU WIN?
I didn't win but I sure did outperform if you go by expectations. One of my goals was to beat my bib number (6835) and I did so easily, placing 4722nd of 21,554 starters -- 3817th of 12,588 men and 2078th of 4329 in my age group.
HOW'D THAT HAPPEN?
To everyone's chagrin, a strong warm front came through New England the day before the race, and we all had to adjust our expectations in the face of record-high temperatures in the upper 80s. I am known to be an awful runner in the heat, which is kind of a disgrace for someone living in Texas. My only goal was to avoid completely embarrassing myself.
I got off the bus in Hopkinton (more on this later) at about 8:45. It was already warm, something like 75 degrees. Runners crammed into any square inch of shade they could find. Two huge white tents were set up in the field behind the high school; I managed to squeeze into a narrow spot of grass and sit while I waited for the call to the corral.
At 9:20 I started to head up the street. I was walking down Grove Street with thousands of other runners in the middle of a ghost town. There was not a speck of activity in or around any of the houses, other than all of us walking on the street between the barricades. It was kind of eerie, really... until it became apparent that all 15,000 residents were already gathered at the starting line.
I entered my corral and found a couple fellow Texans, Erin and Mike, to chat with until the start. I could already feel myself roasting on the asphalt. We heard the elite men being introduced and the anthem being played, and then we were off. I crossed the starting line a little less than 5 minutes after the gun went off.
Even with all the runners lined up in corrals based on qualifying times, the first 2 miles were still plenty congested. Everyone was wisely saving energy, myself included. The opening downhill was just an easy jog, and when things flattened out, I kept going at what felt like a very comfortable pace.
The feel was pretty rural (and crowded) until a little past Mile 3, when we descended into Ashland and things opened up just a little bit. The throngs of residents and the big Adidas "Ashland is All In" sign almost gave me goosebumps on a hot day. It was a scene that would play out again as I moved on to Framingham and Natick. I kept a reasonably steady pace, trying not to feed off the crowds too much but rather just to enjoy all their support. Wherever I could, I low-fived the little kids standing along the road. Some of them were keeping count and bragging to their friends about whose hand had received more slaps.
Of course, nothing to that point would compare to Wellesley. You could hear the girls screaming long before you could see them. I told my wife I would not stop to kiss any of them, and I didn't -- but I definitely lined up along the rail and high-fived as many of them as I could over that 300-yard stretch. Nearly all of them had signs: "Kiss Me I'm an Economist", "Kiss Me I'm Graduating", "Kiss Me I'm From Texas", and my favorite, the simple "I Won't Tell Your Wife".
I crossed the 13.1 mat in 1:42:22, which was probably the first time I started to think about my finish time. I had in mind that an average pace of 8:00 would be an exceptional target for me to hit, though that didn't give me a whole lot of wiggle room over the back half of the race. Over the next few miles I felt that getting away from me as the heat started taking its toll and each mile crept a little further away from 8:00.
And then I crossed the bridge over the Newton falls, saw the Lower Falls Wine Company and braced myself for what was to come. The Newton hills aren't steep, but they're long enough on a hot day for you to notice. My mind was starting to get a little foggy at the time, but it seemed like the second of the four hills was the toughest physically. I quit looking at my watch and focused on getting left in front of right in front of left. I wasn't charging up the hills but I wasn't walking either, like so many were by now.
After the third hill, there's a flat section before you hit Heartbreak, just to let you think about it a little more. It starts with a small rise, plateaus a little, and then up you go. It's not the hardest hill on the course and it's no harder than anything all but the flattest of flatlanders face in training. But if you're not mentally focused, you'll be left behind.
I guess I kept my mental focus, seeing as I got myself to the top, still without having walked a step. But keeping that focus came at a cost, as once I crested and started coming down the other side, I was completely spent mentally (and nearly so physically). The last 5 miles of the race I was in pure survival mode with absolutely no cognizance of anything going on around me. People say the Boston College kids were exceptionally rowdy, but I don't think I heard a single one. My Garmin said I put together a pretty strong Mile 22, and there's a photo of me smiling and giving a double thumbs-up as I zoom past some poor sap walking along like his wife just left him and took the dog, but I am sure you could not have asked me for my name and gotten the correct answer at that point. I just wanted to finish.
Just past Mile 23 I finally gave in and started walking. I would need another four short walk breaks before the finish. I was a little psychologically whipped because I knew Heartbreak was the last big hill and it was mostly downhill from there, but there were still a few little nuisance bumps here and there that I just didn't have any more strength for. My 8:00 pace was out the window, and eventually my backup goal of 3:40:00 would be gone too. But I knew my time would be far from my worst, and that was enough to get me down Boylston and over the finish line with my arms raised.
WHAT ELSE?
There's so much to say about Boston, but you absolutely must start with the fans. You know going in that the race draws huge numbers of spectators, and indeed, there were hardly any breaks along the roadside from start to finish. But what I hadn't considered was just how dedicated and supportive these folks would be.
Long after the Kenyans had passed through, dozens of families had their garden hoses hooked up to spray runners down, or had tables set up to hand out ice or popsicles or oranges or paper towels, or just stayed out there to cheer us all on. I'm sure the race organizers put on a big (and very well-deserved) party for the volunteers, but what they really need to do is have a bash for all the incredible local supporters who were out there in the hot sun putting us all on their backs. I almost never take unofficial aid, but the couple times I grabbed orange slices were probably brilliant moves on my part to stay upright.
I must also give kudos to Golden Adventures and Diane Golden, through whom I made the arrangements for my accommodations. I stayed at the Park Plaza, about four blocks from the finish line, a block from the Arlington T station and within steps of several restaurants (for carb purposes, there's a Maggiano's across the street). The hotel was packed, but with all those runners, it was plenty quiet. I paid the extra 50 bucks to get an extra hour of sleep and catch a comfortable charter bus at the front door rather than line up for a school bus to take me to Hopkinton. The whole experience was fantastic and I highly recommend that you folks who got into NYC check out Golden Adventures.
Not everything was completely rosy. Last fall I happened to win a "free" ticket on Spirit within days of finding out I made the field. I say "free" because I still had to pay the taxes and fees (80 bucks), plus 35 bucks each way for a carry-on bag (that's Spirit's bit; they advertise ultra-low fares and then nickel-and-dime you until it's not such a great deal anymore). So in the end, it was not that great a deal, and it seemed even less so after my wife pointed out the day before I left that Spirit configures its planes to have the least legroom of anything you'll find in the air today. Let's sum it up thusly: If you don't find other airlines to be spacious and luxurious, then don't even bother with Spirit.
SPLITS?
7:39
7:29
7:26
7:29
7:43
7:39
7:39
7:54
7:48
7:51
7:59
7:55
7:57
7:58
8:14
8:09
8:29
8:36
8:41
9:07
9:19
8:12
8:53
9:59
9:49
10:30
9:04 last .49

OK, WHAT ABOUT THE REAL REASON WE ALL RUN, THE STUFF?
Boston could give you a wet sack of cat turds and two slaps across the face and you'd still run it. But yes, you do get a sharp-looking long-sleeve tech shirt, a 12x18 poster, a thick race program and a bunch of other goodies. Of course, finishing gets you this: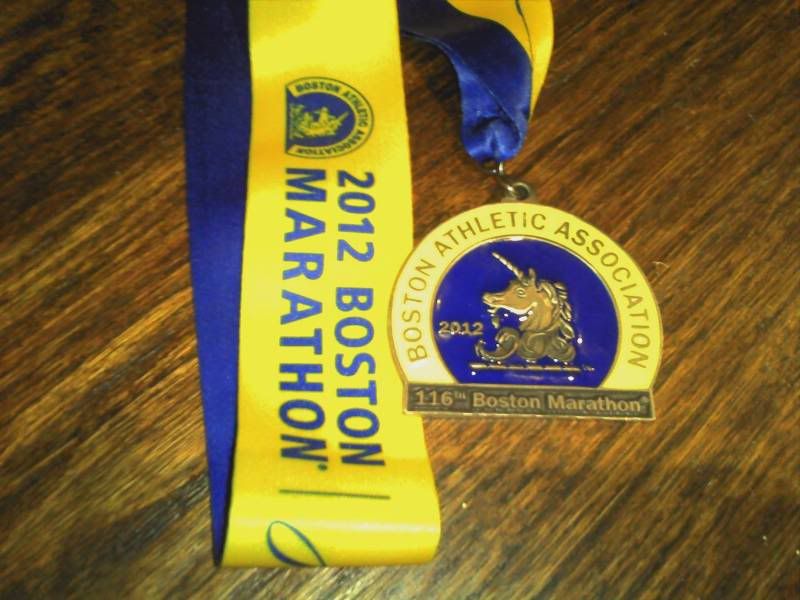 WHAT'S NEXT?
Big Sur International Marathon, Apr. 29.