ENOUGH WITH THE SMALL TALK. HOW'D IT GO?
I stayed more or less upright for 33.89 miles and 6 hours, 33 minutes, 33 seconds, finishing my longest run on almost entirely rocky single-track trail to date without shedding any blood.
DID YOU WIN?
I'm considering it a win that I didn't fall to the ground at any point (although I came close with increasing regularity as the day went on). In the official standings I was 23rd of 57 overall, 21st of 34 men. Not bad for someone with so few trail miles under his belt.
HOW'D THAT HAPPEN?
I pieced together a few trail miles over the last couple of weeks but certainly not enough to determine what level of effort I could sustain over several hours. So my plan was pretty much just to go as hard as I could for as long as I could and see how much farther I had to go after that.
I ran easily down the opening paved section and joined the trail at about 1.25 miles. A few of us were still bunched up, but running at about the effort I would have been going anyway. The guy in front of me remarked that he was almost exclusively a road runner, which made 2 of us. There were many more rocks than I'd expected, and a few sections of sand weren't much fun either. I had a couple of meaningful stumbles but managed to catch myself on a tree and a trail marker. I felt great as I finished the first loop (just shy of 11 miles) in 8th place in 1:38:52.
Then things really got fun. For the last two loops, most of the paved section was swapped out for a longer section of the rocky stuff. I kept running -- or maintaining some kind of motion intended to emulate running -- but my pace slowed noticeably, about 2 minutes per mile compared to the first loop. A few folks passed me here and there, and a little before the end of the second loop I finally had to break down and start walking a bit. The second loop was done in 3:44:56 and I was down to 15th place. I crunched the numbers and figured if I tailed off the same amount from loop 2 to 3 as I did from 1 to 2, I'd be finished in 6:15, right at my pre-race goal.
That fuzzy math didn't hold up, though, as my woeful level of undertraining went on full display on the final loop. I ran when I could but those stretches rarely lasted more than a couple of minutes and were usually much shorter. My worn-out legs couldn't pick my feet off the ground enough to keep from stumbling nearly a dozen times. I might've started swearing. When I finally made it back to the last paved section, I wanted to break out in a sprint, but my stride was so short I almost couldn't even keep up with myself. Stretching after the race felt especially satisfying.
WHAT ELSE?
This race fills a key spot in the pecking order of trail races. It's not easy, and you won't be coddled... but it's also not so hard that you emerge from the woods as a mess of blood and broken bones. I appreciate the heavy emphasis on local sponsorship... especially the Mexican restaurant down the road that provided the post-race burritos. And it's cup-free, so a handheld is a necessity.
SPLITS?
8:19
10:19
9:33
9:21
9:25
9:45
9:58
9:48
9:33
9:56
9:32
10:01
11:13
10:39
10:49
11:49
11:50
11:57
12:04
11:58
14:15
12:27
13:54
16:22
16:28
15:48
16:10
15:55
16:42
16:57
15:20
13:43
10:12 pace last .18
OK, WHAT ABOUT THE REAL REASON WE ALL RUN, THE STUFF?
You get a comfy long-sleeve bamboo shirt for entering. No medal for finishing; instead it's a small medallion and a bottle of local honey: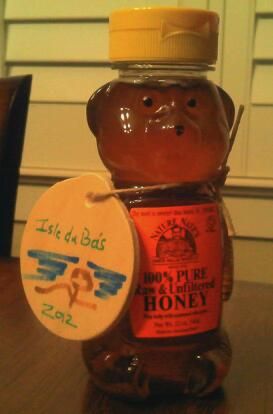 WHAT'S NEXT?
Houston Marathon, Jan. 13.