ENOUGH WITH THE SMALL TALK. HOW'D IT GO?
I nearly coughed up a huge cushion under my Boston qualifying time but saved myself in the last mile, running a 3:09:42 to qualify by 18 seconds (and break my PR by 3:13).
DID YOU WIN?
Absolutely. I was less than fully confident about my training coming into this race, but it turned out to be enough. I'm really excited about proving to myself that my other BQ (Grandma's 2011) was not some wind-aided fluke (well, it might've been, but this race surely wasn't). I came in 225th place out of 6674 finishers, 195th of 4111 men and 41st of 638 in my division.
HOW'D THAT HAPPEN?
I was extremely anxious about the weather heading into this race, which was the only one I had planned to try to qualify for Boston 2014. With forecasts calling for a better-than-even chance of thunderstorms on race morning, I was so worried about the race being black-flagged I started looking up backup plans (A2A, Fargo, even Big Cottonwood)
. My fears never came to pass, thankfully; there was no precipitation outside of a short shower 10 minutes before the race, a rainy first mile and some mist here and there.
My plan was to run with the 3:10 pacer, but he was just about the last guy to enter corral A, long after I was wedged in closer to the front. After crossing the starting line, I thought about hanging back and waiting for him before realizing what a mistake that would be (I'd have to make that time up later, assuming he would run a perfect 3:10:00). So I went off by myself.
I was well under control and on pace for the first mile, but the combination of coming over the Elysian Viaduct and merging courses with the half marathoners sped me up, and I went with it. Turning south at mile 5, I knew I'd have the wind at my back and should take advantage before having to repay the loan later in the race. My 5K splits dropped from 21:46 to 21:30 to 21:26.
Just before mile 11, I turned west by Rice University and started to feel the wind in my face. I slowed a little but was still churning out 7:00-ish miles, going further under 7:15 pace. I crossed the mat at 13.1 in 1:31:11, almost 4 minutes below where I needed to be. But the back half of a marathon is still a long way to go, so I tried to stifle any thoughts that I had this in the bag.
The climb over the bridge on Westpark (after mile 14) was a short but tough one, combining a steep grade with a wicked crosswind. I continued to slow down a little on the trek north through the Galleria area, but the losses were small, and I was buoyed knowing that I'd soon be heading back to the east and should have the wind out of my face the rest of the way.
Only, it didn't work out exactly that way. Running through Memorial Park often meant choosing between taking tangents and lessening the wind's effect (I stuck with the former). As the course snaked through the final miles, each little curve to the left brought a new shot of resistance and a little more of a struggle to keep my tiring legs moving forward at the same speed. I still had a couple minutes to spare, but my cushion was eroding quickly.
With a mile to go, I re-entered the downtown area and spotted my wife and daughter on the sidewalk cheering for me. I gave them a confident wave, but inside I was starting to panic. I was running as hard as I could, but the wind rushing between the skyscrapers was tossing me all over the place. On one block it would be at my back; the next, at my face. I made the last left turn at the convention center and hustled to the finish, finally able to throw two fists in the air as I crossed the line.
When I got a first look at my splits later, I realized how close I had cut it to 3:10 (aside, of course, from already knowing the final result). Each mile got slower from 19 through 25. If 26 had continued that trend, I wouldn't have made it.
WHAT ELSE?
Other than the weather, my biggest concern was my shoes. I've been transitioning to lower-drop shoes over the last year and am finally to the point that I'm logging most of my miles in zero-drop shoes, specifically the original Altra Instincts. I was less than confident about my ability to run a fast marathon in them because they're moderately heavy and I'd read thoughts from some folks who felt they just couldn't run as fast in zero-drop shoes as in ones with a little bit of a heel. But the only other shoes in my closet I'd even consider would be my New Balance 205 or Nike Zoom Streak racing flats that don't have enough cushion for me to wear past 13.1 (and they're really not intended to go that far). I went with the Instincts anyway; maybe I could've run a 3:08 in other shoes, but I did what needed to be done so I'll leave that question unanswered for now.
Someone mentioned course scenery recently and it occurred to me that I tend to pay little attention to my surroundings so the scenic aspect of many races is lost on me (unless I don't really care about my time). Thanks to the combination of puddles and extreme focus on the clock, this race probably saw me pay the least attention of all. I remember bits and pieces of the course, like the stadium at Rice or the Galleria, but enough to say whether it's really a good course? No idea. There are 6 or 7 overpasses or underpasses and the rest of it is totally flat, I can tell you that much, but what it gives you of Houston, I couldn't say.
The race is advertised as having huge crowd support, and while the raw conditions put a damper (get it?) on turnout, there was a pretty good sprinkling of folks along the route. I was pleased with the volunteers as well, especially the guy I slumped on at the finish who helped keep me upright for 50 yards or so. I really would've been impressed by anyone standing out in the rain at the first aid station, but those folks filled the cups and took cover (I have no problem with this; if it's not warm, you really don't need a water stop a mile and a half in). The rest of the aid stations were well organized and predictable, with several Gatorade tables followed by a gap and then several water tables. The aid stations on the joint marathon/half route stretched for 100 yards or more. These were done right.
The post-race food, on the other hand, was a lowlight -- not the quality so much as the availability. After collecting my medal, a bottle of water and a banana outside, I went into the convention center to find a line for hot food that was hundreds of people deep. All the three-hour half-marathoners got to help themselves alongside the front-of-the-pack marathoners. I try to be careful about coming off as a snob when it comes to how fast folks run, but this just wasn't right. The marathoners should have had a separate entry, or a jump-the-line pass, or just something to be able to go in and get some food. I didn't wait; I walked back to the hotel and got a sandwich in the time it would've taken me to get anything.
SPLITS?
7:19
6:49
6:53
6:51
6:54
6:48
6:54
6:52
6:55
6:56
6:51
6:58
7:03
7:03
7:11
7:01
7:24
7:24
7:13
7:24
7:30
7:34
7:40
7:44
7:53
7:36
8:08 pace last .37
OK, WHAT ABOUT THE REAL REASON WE ALL RUN, THE STUFF?
The white cotton T for entrants will be donated, but the red tech T for finishers is decent (although I'd prefer long sleeves). I like the medal and mug, which is kind of odd given that I've pieced together a pretty good kitchen cabinet of glassware from races and never taken a sip out of any of them: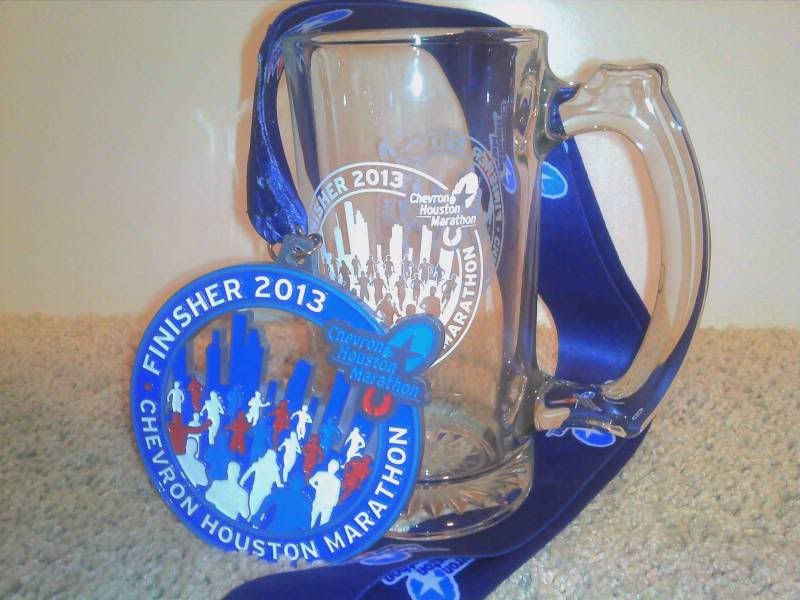 WHAT'S NEXT?
Rocky Raccoon 100, Feb. 2.