ENOUGH WITH THE SMALL TALK. HOW'D IT GO?
I met my bare-minimum goal, rounding the 1.4-mile loop 36 times for a total of 50.4 miles. I was so worn out I sat down for the third and final time with almost 2 hours left on the clock.
DID YOU WIN?
Of course not, but having never gone past 50K before, I shouldn't have expected to. I was right in the middle, 17th of 33 entrants. If I had tried to shuffle along until the end, I might've moved up another 5 spots, but I didn't.
HOW'D THAT HAPPEN?
My plan was to jog along at my comfortable training pace until I couldn't anywhere, and then just fight for whatever miles I could after that. As I later learned, this was a ridiculous plan.
After starting in the middle of the pack, I scooted around a few folks and found myself behind just one other runner barely half a mile into the race. I didn't know if the leader was in the 6-hour race or the 12, but I thought it'd be pretty cool to take the lead, so I did. I was running easily, so I figured there was no harm in it.
I kept the lead for another lap... and a couple more... and a few more after that. I wasn't wearing my Garmin and I was keeping only rough track of my lap times, but I was in the neighborhood of 8:00 miles -- less than a minute slower than marathon pace and much faster than I'd been running around the neighborhood to build aerobic endurance. I'd been amped for this race; clearly too much so.
On lap 10 or so one of the 6-hour leaders ran by me and remarked that I'd have a course record in the bag if I kept up my pace. A few people I'd lapped made similar remarks. But it was near the end of lap 12 that I got my 15 seconds of fame.
I'd spotted last year's winner motoring along the one long straightaway on the course. Much as I figured it would be neat to take the lead, I thought it would be very cool to lap this guy. And so I did, passing him just as we crossed the start/finish line. I heard a few murmurs from the lap counters' tent. I considered that my formal introduction.
Of course, he'd have the last laugh, as he would pass me back, and then continue to pass me, repeatedly, until he walked off with another win. As the day wore on it became very apparent that I had been that guy, the one who goes flying off at the start of a race (relatively speaking) only to crash and burn. Before the day was half over, I had reached into my container of goodies and pulled out a lacrosse ball to run over my hamstrings, quads and IT bands to work out the fatigue. As the 6-hour racers wrapped things up, I crossed the line for the 21st time to mark 35 miles.
At 42 miles I sat down for the first time. I wanted to call it a day. I couldn't run anymore thanks to tendinitis in my shins. All the muscular issues from before, I could work out, but this kind of pain could only be relieved by stopping. I was upset with myself that I couldn't get to 50 miles; even though I'd never come close to running that far I figured surely I could stick it out to there. After 15 minutes or so on the ground, I got up and started walking.
I finished 5 more laps to get to 49 miles and told my lap counter I had one more lap in me... but let me sit down for another few minutes first. After resting for 15 more minutes and hobbling another 1.4 miles, I brushed off the volunteers' pleas to keep going and took my shoes off. It wasn't the 70-some miles I'd allowed myself to think I might be capable of, but it was certainly respectable.
WHAT ELSE?
The great thing about a fixed-time event on a loop course is that you can break the cardinal rule of racing: doing something for the first time on race day. And I did this, many times, really without much trouble.
I planned to take in 250 calories per hour. I never do this during training runs, so this was an experiment. After each odd-numbered hour, I downed whatever the Kroger version of strawberry Ensure is called. The other hours were a mix of Gu, coconut water, protein shakes and granola bars. I had no real digestive issues to speak of.
I started the race carrying Nuun in my handheld bottle, trying to make sure I got a good start with getting salt in me. After a couple bottles of that, I went mostly with water, mixing in Gatorade and soda here and there. Judging by the fact that I didn't pee until an hour after I'd quit running, and by the brief bout of nausea that hit on my way back to the hotel, I could've used both more salt and more fluids throughout the day.
Except for pre-race preparations, I ditched the Body Glide and went with Aquaphor for all my critical areas. Thanks to timely (but not terribly frequent) re-applications, I got through the day with nary a chafe. I had no blisters either; I credit the toe socks for that. In hindsight, I definitely could've gone with my compression shorts and socks. The latter don't prevent blisters for me so I'll have to try out the Ijinji liners with them.
Aside from all those intricacies, I enjoyed the feel of this small club race. There were just 66 entrants in the two events combined. I'm not the most social animal but I struck up conversations with a few folks along the way -- you really can't help it when these few faces are the only ones you see for so long.
SPLITS?
N/A
OK, WHAT ABOUT THE REAL REASON WE ALL RUN, THE STUFF?
The St. Louis Ultrarunners Group uses this race as an annual fundraiser for the Muscular Dystrophy Association, so I didn't expect to be showered in goodies. We all got a blaze orange cotton T-shirt, and everyone who finished at least 26.2 miles got a medal: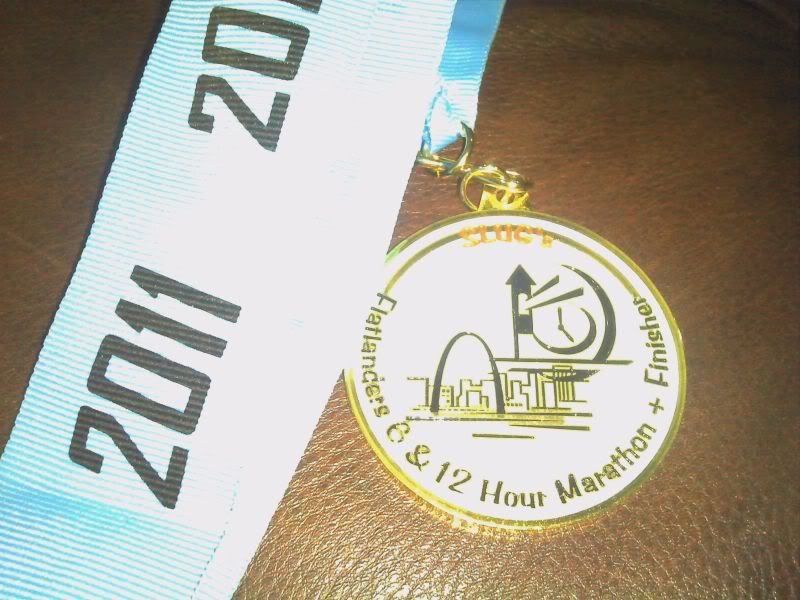 WHAT'S NEXT?
Tyler Rose Marathon, Oct. 9.