ENOUGH WITH THE SMALL TALK. HOW'D IT GO?
I taught a lesson either in courage or stupidity, capping 36 hours of incredible gastrointestinal distress with one of my slowest races ever, shuffling across the finish line in 1:41:34.
DID YOU WIN?
Not even close, though the fact I was even able to get this done was somewhat of a victory. I was 11th of 69 in my age group and 71st of 780 overall.
HOW'D THAT HAPPEN?
It's been a frustrating couple of months since Houston (still worth it to get that BQ, but my patience is waning). The Achilles issue that developed at Houston and was aggravated at Rocky is all gone, but getting over it has left me logging very low miles. So I knew this race would be not much more than a fast-ish long run for me.
Then the stomach bug bit. Friday night I was awakened by the first episode of filthy business. Saturday morning I got up to go do 10 miles with my running club, thinking I could fight through it. But I wanted to pass out just standing there talking to folks, so I went home instead. The drive down was unpleasant, dinner was unpleasant (aside from getting to chat with Teal and Beth), and the rest of the night was unpleasant. When I got up for the last time at 2:30 a.m. -- 4 hours before the start of the race -- I was certain I would not run.
But when the alarm went off at 5:30, I surprisingly didn't feel all that bad. I knew the cold air would combat the nausea, so I got dressed and headed out. I lined up at the back and started running as gently as I could. The near-freezing temperatures were invigorating and the super-flat course was easy on the body, so I was sailing by folks pretty steadily for the first several miles. Then my pace started to pick up as I found I could manage a little more effort, which let me pass a few more people. As I turned back for the second loop on Palm Royale, I started to lap the walkers and back-of-the-packers
. If it weren't for a steady hour-and-change of running by people, I might've had a much rougher time.
My pace actually slowed from the halfway point on, but I didn't really feel the drag take hold until about a mile and half from the finish. I hadn't run longer than 8 miles since Rocky (and even that 8-miler was a struggle) so I wasn't at all surprised to have to battle my way to the end. I crossed the finish line and immediately wanted to fall over, having not a single calorie of energy to spare.
WHAT ELSE?
In other circumstances, this would have been a great race to crush. The flat, looped course (giving you plenty of rabbits to chase) and near-perfect weather (a touch cold, but absolutely no wind) would've set me up for a very fast time, I think. I also enjoyed the scenery of the Sweetwater Country Club, with its tree-lined boulevard and huge houses. The urban feel of the Sugar Land Town Square is neat, too.
It didn't affect me much because I was too ill to stick around, but having post-race pizza not show up until more than half the field had finished and having the live entertainment not start until an hour after that were swings and misses. Some aid stations were water-first and some had Gatorade first, a big mistake. And the folks calling the splits were all wrong and all off by different amounts (some were fast, some were slow, by 2 minutes in either direction).
SPLITS?
7:48
7:32
7:40
7:33
7:49
7:33
7:29
7:33
7:39
7:41
7:47
7:59
8:14
7:16 pace last .19
OK, WHAT ABOUT THE REAL REASON WE ALL RUN, THE STUFF?
There is no race-entry shirt, just a tech tee for finishers. The medal is a sturdy one: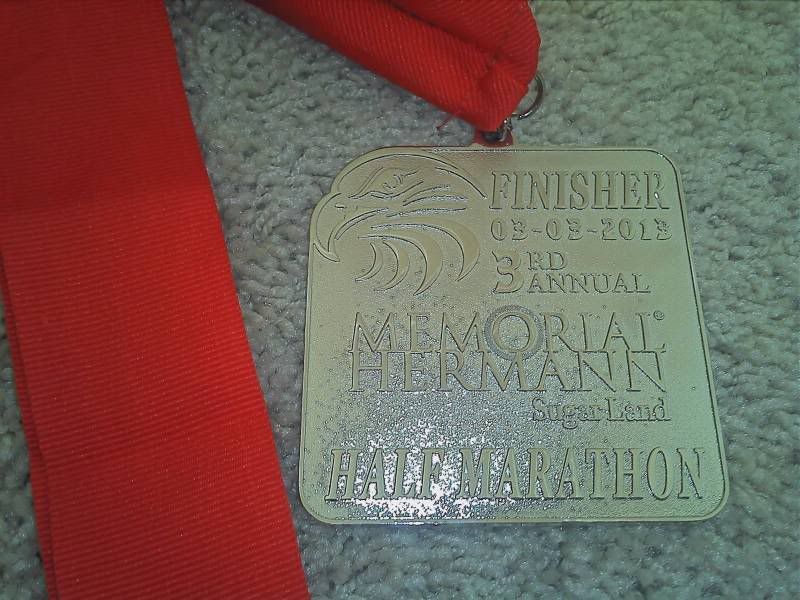 WHAT'S NEXT?
Dash Down Greenville, Mar. 16.