ENOUGH WITH THE SMALL TALK. HOW'D IT GO?
I ran 2 marathons in 2 states in 1 day (mostly). They were vastly different affairs, but the principal goal of the trip was achieved. I knocked out Grandfather Mountain Marathon in 3:33:31, then dawdled and staggered my way to a 5:22:42 "effort" at the Make It By Midnight Marathon.
DID YOU WIN?
I managed to snag 3rd place (out of 28) in my age group at GMM so I did in fact come home with a trophy! I was 36th of 381 overall and 33rd of 277 men. MIBM was less competitive, so even with a personal worst I was 22nd of 52 overall and 13th of 23 men (no age groups).
HOW'D THAT HAPPEN?
The voyage started Thursday with a little over 11 hours in the car to Nashville. A short run and another 6 hours of driving -- with all kinds of white-knuckle twists and turns going over the Appalachians -- got me to Boone late Friday afternoon, with just enough time to walk the mile or so from the hotel to packet pickup.
The weather on race morning was tremendous: thick fog, low 60s, with the humidity cut by a light wind. Shortly before we lined up on the Appalachian State University track to begin, a couple of runners got married on the football field. We've all heard of engagements at the finish line, but a wedding at the start line? That's some serious business. (I saw them finishing together so if they made it together to that point, they're set for life.)
After a lap and a half on the track, we filed out of the stadium and through the edge of campus. I stayed relaxed through the downhill opening section and paid no mind to the folks running past me. As we turned off the main drag and started to head up the mountain, I could feel the increased effort in my chest and legs. I welcomed the chance to walk through the second aid station at mile 5 and take my first gel. I kept this pattern for the rest of the race; the short breaks gave me just the little bit of recovery I needed to get through the next few miles.
With the uphills came downhills, at least through the first half of the race. I found the drop just before mile 8 to be the most harrowing, ending at a very sharp left turn with the added difficulty of a pickup truck approaching from the right (thank you to the volunteer who caught the driver's attention). At this point I was still under an 8-minute average pace, far below the 10-minute pace I had budgeted.
Somewhere along the way I ran alongside a woman who advised me to look out for the gravel hill at mile 15 and not even bother trying to run it. I still had in mind that I'd be doing plenty of uphill walking in the second half so that seemed about right to me. I hopped onto the Blue Ridge Parkway around mile 11 and enjoyed 3 tame miles to the next aid station. I passed the halfway point in 1:43.
After that next turn came the gravel section I was warned about. I took a little extra time walking out of the aid station, feeling all the little rocks under my thin-soled Merrells. When the hill wasn't there, I started jogging carefully until I found it, a mile later. She wasn't kidding; it was a steep climb on loose, wet gravel. But it was only three-tenths of a mile, and by the top I was ready to run again.
It was a steady uphill the rest of the way, but with a few downhill bursts as well. I knew I'd be easily under 4 hours, but as the miles ticked off I realized that 3:50 was in the bag... and then 3:45... and 3:40. I pushed aside the idea of keeping energy in the tank for the night race and went for the best time I could. The climb up to the stadium hosting the Grandfather Mountain Games, a Scottish Highlands festival, provided one last brief challenge before I raced around the track to some generous applause.
I walked back to get something to eat and collect my bag. I needed to get on the road but I didn't want to leave behind an award in case I had won, so I headed back to the finish-line tent, passing the ethnic dancers and the men in kilts throwing telephone poles, to see that indeed, my name was written on the awards sheet. I tried to make the case that I would like my award now, please, so I could get going, but there was confusion about whether the top 3 or 5 overall would be pulled out of the age groups and it would be better if I just waited.
Fortunately the delay didn't last longer than I had budgeted anyway, so by the time I caught the shuttle bus back to another shuttle van back to the stadium, I wasn't really behind what I had scheduled. But when I got to the hotel 6 hours later, I realized I only had time to slap on a fresh application of Aquaphor, change clothes and head out. I wanted to start Make It By Midnight at 7; I started at 7:13, and when it came to trying to finish by midnight, those few minutes made the difference.
As with the morning race, we caught a tremendous break with the weather, possibly even more so. Normally it would be in the mid-90s with a heat index well over 100, but clouds held the temperature down 15 degrees. Nevertheless, I was already soaked just a few minutes into the run.
I went with the same plan of walking to take my gels and running the rest of the way, and that seemed to be working for a while. The course was more or less a short flat section followed by a short, steep uphill and downhill, repeated many times. I had to stop after the first of 4 6.55-mile loops to tie my shoes tighter, but otherwise I felt pretty good. At the end of the second loop, I took an extra walk up the last big hill, and on the third loop, I mixed in a few more uphill walks, less out of choice than necessity. The tank was running low, but I wasn't totally empty... yet.
As I finished the third loop, I had 92 minutes remaining before midnight. Normally that would be way, way more time than I would need, but these circumstances were different. I was worn out from a very long day and I knew I would only be slowing further. And, there really was nothing on the line: no age group awards, and what do I care about a plastic tiara? I considered that I had 8 weeks until a much more important race and decided to get an early start on recovery by just walking the last lap entirely. If I had started at 7 and had those extra 13 minutes, then sure, I would've gone for it.
Of course, by walking instead of running I was prompted to realize how very much my feet hurt. I loosened my shoelaces but that didn't help much. In hindsight, the adage "if it hurts to run and it hurts to walk, then run" comes to mind, but I'm not sure I had anything left to run if I had wanted to. I sat for a minute at the mid-loop aid station but my rest was truncated when the volunteer slapped an unwelcome wet washcloth on my neck (I wisely kept my mouth shut rather than risk disqualification for saying what I was thinking). The last mile was not terribly unlike the last steps of the guys you've seen crawling to the finish at Kona. Needless to say, I was never happier that a race was over.
Alas, the weekend wasn't officially over until I got in the car on Sunday and drove about 14 1/2 hours to get home. That was about as tough as the day before.
WHAT ELSE?
I hung out for a while afterward and chatted with the MIBM race director. He's a nice guy and so it greatly pains me to say this, but the only reasons to run this race are (A) you're local and up for a challenge, or (B) you're doing something ridiculous like I was. The weather, the hills... I'm not going to complain about these things because they're evident to everyone going into the race and I can't stand when people gripe about things like that. But the visuals are poor -- it's a gated neighborhood but with average houses -- and the streets are pretty beat up (not to mention fairly well-trafficked in places, so you're dodging cars well into the evening). A few residents came out to their curbs to cheer, but not many. And with folks coming and going all afternoon -- the course opens at 3 p.m. and several people were packed up and gone before 9 -- there's little start- or finish-line socializing. Like I said, there might be some appeal, but it's limited.
On the other hand, Grandfather Mountain is full of scenery with thick woods and numerous waterfalls all the way up. The track start and finish (on different tracks) is unique. The aid stations are pretty sparse through the first half, which wasn't a problem this time but could cause trouble on a warm day. The biggest issue, though, is with the published course profile. Compare their version to my Garmin:
Mine doesn't look quite so tough, eh? Well, my eagle eyes did not catch the X-axis of the GMM profile, which includes only selected points of the course and is not to scale. It's still a difficult course, sure, with about 2,900 feet of ascent, but most of it is much more gradual than you would be led to believe. (Blue Ridge, by comparison, has only 25% more gain, but its three long, steep climbs keep that race in a category by itself as far as road marathons go.)
SPLITS?
Grandfather Mountain:
7:22
7:20
7:36
8:11
8:43
8:00
8:43
6:40
8:43
8:44
8:17
6:51
7:43
7:59
8:00
9:29
10:30
8:53
8:52
8:26
8:19
7:59
8:47
8:06
8:57
7:47 pace last .82 (excessive Garmin trim on all the twists and turns)
Make It By Midnight:
7:37
7:25
7:48
7:53
8:32
8:27
10:14
8:47
9:08
8:59
9:36
9:42
11:16
11:26
10:47
12:29
12:11
11:28
11:53
13:05
17:55
17:32
18:25
20:47
19:14
21:57
21:33 pace last .38
OK, WHAT ABOUT THE REAL REASON WE ALL RUN, THE STUFF?
GMM gives you a shirt. The medal is small and kind of threw me a bit since the shirt says "46th running" and the medal says "45th anniversary", which are both true. The awards are simple but elegant acrylic trophies: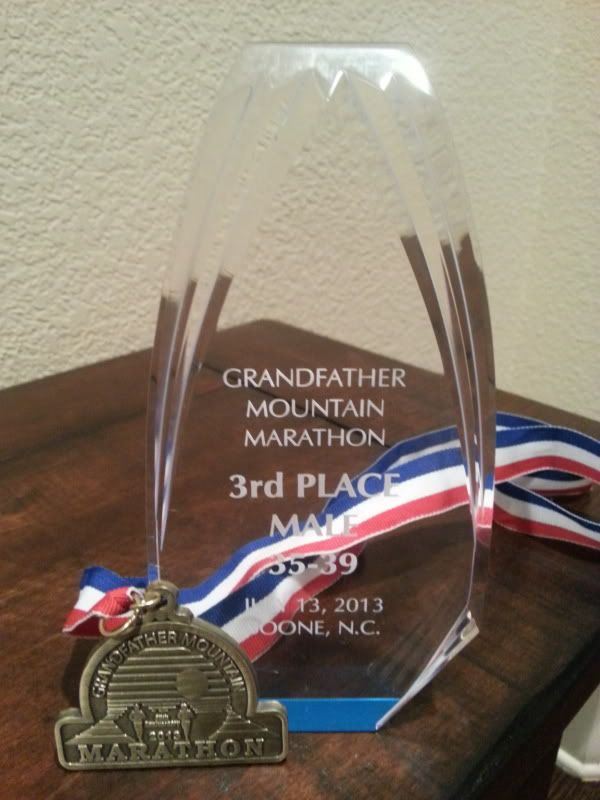 MIBM throws a little more in the bag, adding a water bottle and flashlight to the shirt, just in case you showed up totally unprepared. If you make it by midnight, you get a tiara; if you don't, it's an unmarked plastic pumpkin. I really like the medal: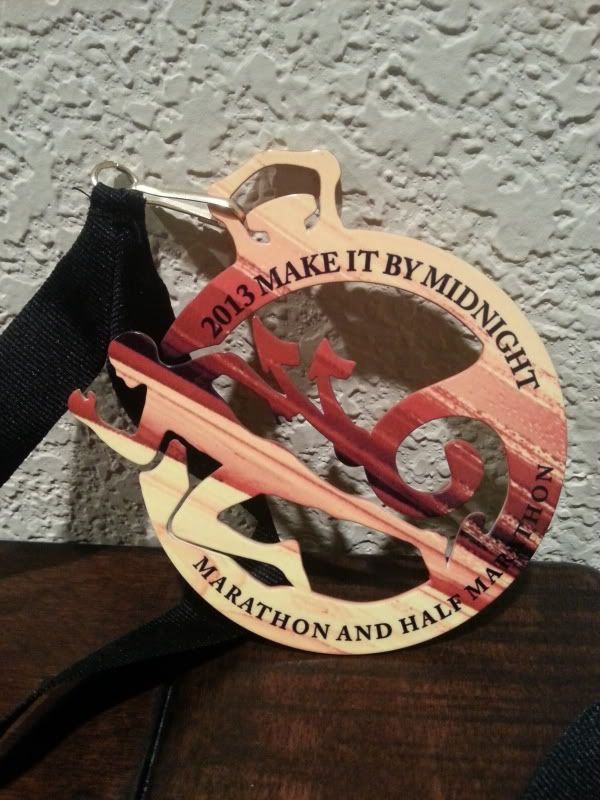 WHAT'S NEXT?
Queen City Marathon, Sept. 8.