ENOUGH WITH THE SMALL TALK. HOW'D IT GO?
As you might have guessed by how long it has taken me to post this report, it did not go well. I was on track for 3:05 throughout the first half but blew up on the way home, struggling to a 3:18:34 finish.
DID YOU WIN?
As I said before the race, the sole reason for this trip was to lower my Boston qualifying time. I didn't do that, so the trip was a failure. I had a lot of feedback afterward disputing this, but when you have a very specific goal and you come nowhere near accomplishing it, there's really no other way to categorize it. There's no "next time" in this case. Anyway, I was 34th of 666 finishers, 31st of 376 men, 7th of 46 in my age group, 4th American and 2nd Texan.
HOW'D THAT HAPPEN?
Honestly, I have blacked out most memories of this event, it was that forgettable. The splits below tell the story. I remember thinking at the halfway point that it was going to be extremely difficult to maintain that pace. I had built a small cushion but by the 18K mark I was already starting to give a little bit of time back with each passing kilometer. I tried to relax by reminding myself that 3:05 was the goal but any PR (under 3:09:42) would still qualify as a success.
I would start the second half of the figure-8-ish course with a little bit of a tailwind, but it hardly did me any good. And the combination of coming back into the wind and tired legs slowed me nearly to a halt. At about mile 21, a runner passed me and, noting my North Texas Runners shirt, shared that he was from Austin. Oh great, I thought, not only am I not the only Texan to come all this way, I can't even cling to the claim of being the fastest.
WHAT ELSE?
I spent a lot of time after the race trying to dissect it and figure out what went wrong. Did I log too many miles in training? Did I not run enough miles? Did I walk too much the couple days before the race? Did travel throw me off? Did I not get enough carbs? Was I dehydrated? Did I not get enough sleep? Was the course too flat (73 feet of total climbing)? Any and none of these could be at fault. I think most of all I just focused too much on running in the heat and not enough on doing more work at race pace. I had a couple of race-pace long runs during the summer but they were not long enough and the last one of note was too many weeks before the race. And let's face it, racing a marathon is hard. I don't mind running marathons, but running them as hard as I can is probably my least favorite thing to do.
SPLITS?
6:56
7:01
6:55
6:52
6:58
7:01
7:00
6:55
6:52
7:03
7:05
7:07
7:24
7:09
7:15
7:21
7:26
7:41
7:51
7:49
8:14
9:05
9:14
9:35
8:55
8:50
8:37 pace last .1 (the Garmin cut the corners quite generously)
OK, WHAT ABOUT THE REAL REASON WE ALL RUN, THE STUFF?
This race brought about the welcome return of the actual goodie bag: free samples of granola bars and Advil were among the items tossed into the drawstring bag. The long-sleeve shirt pays homage to the local Canadian Football League team, and the medal reminds you that the number 26.2 has little meaning elsewhere in the world: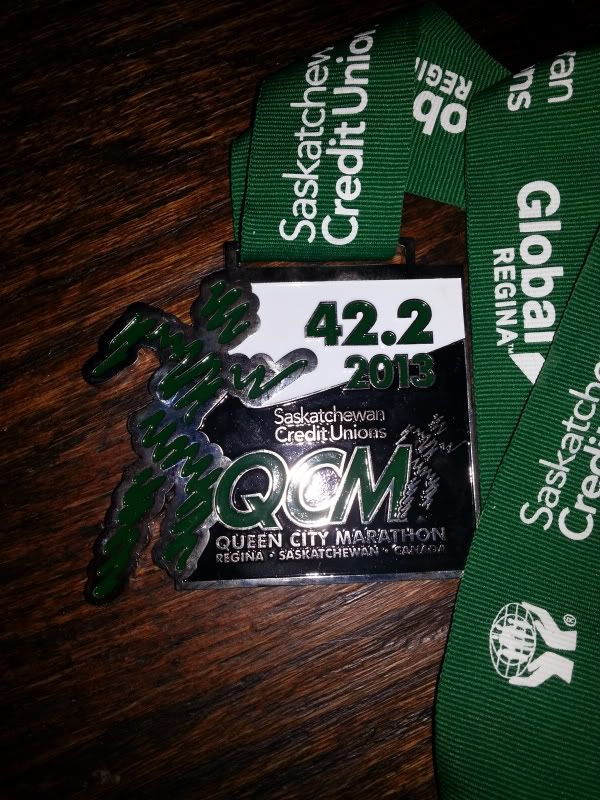 WHAT'S NEXT?
Lost Loop 50K, tomorrow.