ENOUGH WITH THE SMALL TALK. HOW'D IT GO?
I stunned myself with a personal best, 1:29:51, 15 seconds faster than my last half marathon 3 weeks ago. That makes 6 straight races with PRs, and means that in my 11 half marathons, I've run PRs 9 times. The age grade of 79.4 is a personal best, too.
DID YOU WIN?
I was 2nd in my age group for the 2nd straight race (out of 17 total) and 16th overall out of 316.
HOW'D THAT HAPPEN?
Originally my plan was to go all-out for this race to crack the 90-minute mark, but as each day passed last week with a warmer forecast, I tempered my expectations. By yesterday I would've been happy with just the best I could do. That feeling was still in place this morning when the temperature was 58 when the gun went off.
I started way too fast, getting fired up by some punk kid who shoved me at the start. I looked at my watch and saw I'd zipped through the first third of a mile in a hair over 2 minutes, which led to me throwing on the brakes. There were a lot of folks in front of me, and even though I knew some of them were relay runners, I figured there was no way that many people would be banging out 6-minute miles on this humid, mild morning.
My pace settled to about where I had hoped, in the 6:50 range. There were two volunteers at every mile marker calling out paces rather than elapsed time, which greatly reduced the amount of mental math I had to do to stay on track. As I passed each one and heard "6:50 pace" -- some of them were a little generous -- I told myself I was one mile closer to where I wanted to be.
Sure enough, all those folks who zoomed out at the start slowly came back to me. That one kid who pushed me had blazed through the first mile, out of sight, but by mile 4 I held my tongue from saying "you've had it" as I slipped past him. Apparently I was alone in maintaining my pace as not a single person passed me the entire race.
At the 10-mile mark, my pace was starting to slow. Usually I like to switch gears at mile 11, but I had to crank up the effort half a mile early because I was starting to feel drained. There was a long straightaway with no one in sight, which gave me no one to run down or distract me from my fading energy (and I didn't hear any footsteps behind me to push me, either). Somewhere along the way I quit even looking at my time and focused only on the number on the bottom right of my watch -- miles elapsed.
I climbed the last hill to get to State Line Avenue and commence actually running the line. As with much of the back half of the race, the headwind was just enough to hold me up and give the race that feeling of interminability that sets in when the finish is just up the road. I passed the 13-mile marker and spotted the finish-line clock. It said 1:29-something. I was incredulous. I'd written off my time too soon! I gathered my ass and hauled it the last 100 or so yards to the finish. Not until I stopped my watch and looked at it for confirmation did I realize that I had actually done something I never would have guessed not long ago: break 90 minutes for a half marathon.
WHAT ELSE?
Texarkana is not much of a town. The two trail sections of the race were nice, and I can see these being assets to the locals (though they would seem awfully short to folks here who run around White Rock or follow Plano's extensive system). But around the start/finish areas downtown, half the storefronts are empty and the other half are run down. Much of the residential areas we saw were not very well kept up. And State Line Avenue, only partially utilized by the race, is just a blighted, pole-sign hell.
All that said, the community support for this race was staggering. At many places along the course there were volunteers whose purpose seemed to be nothing other than to cheer runners on (you could tell they were volunteers by the glow-in-the-dark yellow shirts they wore).
To add a layer of competition to the race, there's a Texas-Arkansas challenge that scores the results like a high school cross country meet to determine the champion. I should call it an Arkansas-Texas challenge, since they whipped our butts (though I was proud to have my score counted as the 5th-fastest Texan). That part aside, the Metroplex was well represented in the awards. The 2nd overall female is from Dallas and the female grand masters winner is from Allen. I also spotted a trainer from the Baylor Tom Landry gym the wife and I used to attend who placed in her age group.
SPLITS?
6:36
6:55
6:52
6:53
6:52
6:54
6:48
6:56
6:52
6:59
6:46
6:53
6:54
6:23 pace last .12
OK, WHAT ABOUT THE REAL REASON WE ALL RUN, THE STUFF?
In sharp contrast to the Texas Half, there was plenty of stuff. The goodie bag was a reusable shopping bag from Academy, filled with a long-sleeve T-shirt and fleece ear-warmers with the event name on the front. There was also various plastic stuff -- because you can never have too many water bottles, really -- and a bottle of water. And also in contrast to the last race, this one had a fantastic medal: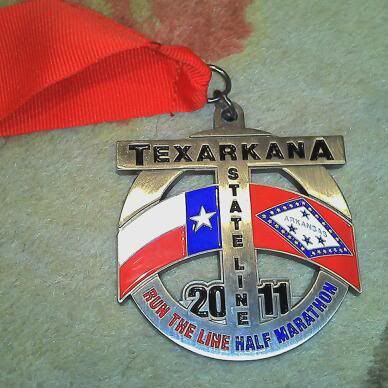 The awards were pretty neat as well, metal signs signifying the accomplishment. The age-group awards were a little smaller than license plates, but the overall winners got signs about three times bigger: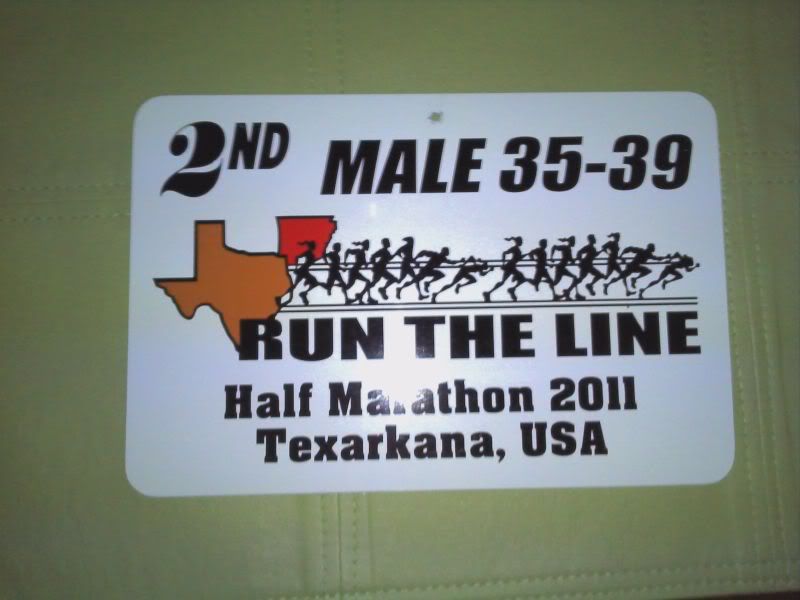 The race had a big mis-step post-race, however. Burgers and hot dogs were being grilled next to the finish line, but if you wanted something else -- anything else -- tough. That's right, no bananas or Clif bars or muffins or any of the items you'd expect. Wish I would have known this.
WHAT'S NEXT?
Cowtown, Ft. Worth. 5K on Saturday, ultra on Sunday.