ENOUGH WITH THE SMALL TALK. HOW'D IT GO?
Coming off of a couple weeks of almost no running as I tried to fend off a foot injury, a tough course on a hot, windy day produced the expected result: suckage. Sure, I'll get very little sympathy for calling a 4:09:19 suckage, but that's damn near an hour slower than I ran 26.2 twice within the last few months. I'm calling that suckage.
DID YOU WIN?
Oh good grief no. But it tells you what kind of day everyone had when I threw that effort out there and came in 84th of 714 finishers, 11th of 80 in my age group.
HOW'D THAT HAPPEN?
Well, like I said, I hardly ran at all in the two weeks since the Rock 'n' Roll race. The first run after that, I felt a sharp pain in my right foot that felt just like the stress fracture I had a couple years ago. But this time, I didn't have the telltale swelling, so I was hopeful I'd stopped in time. After a bunch of days off, I went out for a couple short jogs and came to the conclusion I could probably shuffle my way through the marathon.
I had little if any plan for how to run this race. My previous long runs had been in much better weather -- even Cowtown -- so it was tough to know what I should expect on a day that started out in the upper 70s and was pushing 90 by the time I was done. I knew I would run-walk; I had decided this long ago. I just needed to come up with the appropriate intervals.
At First Light, the only other marathon I had run-walked (on purpose), I went for a 5:00/:30 rotation. On this day, I aimed for 4:30/:30. I was thinking that might yield about a 7:45 pace... which would have been true, if I had kept it up. It took most of, oh, about one run interval for doubt to set in, as I wrapped up the first run segment already drenched.
Other than checking my watch for intervals, I really wasn't paying any attention to how I was doing. I felt fine -- sweaty but fine -- so I figured I was keeping things respectable. I was playing leapfrog with some girl who had Bible quotes written on the backs of her legs. I couldn't tell you what they said, since I was more focused on the scant, thin piece of material just above them. (Don't kid yourself, people.)
Eventually I quit catching up to that girl on my run intervals, somewhere on Peavy about 9.5 miles in -- the bridge over Buckner had hit me pretty hard. I stuck with the intervals a couple more miles before deciding I needed a longer walk break, maybe 2 minutes or so. That was the beginning of the end. After a brief rally, I quit looking at my watch and decided that anything that even smelled like a hill would slow me to a walk.
I crossed the 13.1 mat in 1:44:02, which was 48th best at that point. If it had only been a half marathon, I really wouldn't have been too upset with that time. But I had a rough 13.1 miles to go.
I walked the long hill up Country Club and remarked to another girl who'd picked this day of all days to run her first marathon that the worst hill was yet to come. We got back to the lake and traded the hills for a ridiculous 30 mph headwind that did just as good a job of stopping me dead in my tracks. I traded places with a few guys who were having just as rough a day as I was, while every so often a couple of more conditioned folks zoomed past.
After walking all the way up that other hellacious hill, on Lakewood, I went back to doing some mental math. Usually I keep myself busy with this for the better part of my races (since I don't carry music), but I didn't have much to think about until I tried to encourage myself that an 11-minute pace for the remaining miles would get me home under 4 hours. Thing was, I was a little generous with the math, and I wasn't keeping that pace... and on top of that, I was thirsty.
I can't remember ever being downright parched in a race. I take fluids at every stop, and while I have felt like I could have more to drink at other times, this was different. I would take a cup of both water and Gatorade, drink them both and feel thirsty again just a couple minutes later. I should have just stopped and drank until I was satisfied, but I was still of the mind that another mile and a half to the next station wasn't that far. On a normal day, that would be true, but in this case that meant almost another 20 minutes.
The turn onto Haskell meant the end was mercifully near. I still had to pass the delicious glue fumes from a cabinet shop at mile 24, and deal with the tease of hearing the finish line announcer's voice echoing through Fair Park with more than a mile and a half to go. I saw my third Marathon Maniacs photographer of the day and switched to running just long enough for him to get the shot and for me to tell him, "Make it look good." I'm sure I was never as happy to be done with something as when I finished.
WHAT ELSE?
I ran this race to complete the trifecta after running the half and 5K in previous years, and to knock out another race in the Four Seasons Half Marathon Challenge. Other than that, there's no reason to run this.
Put aside the weather; no one can control that (some folks would've voted for a 7 a.m. start, but the year they switch to 7 is the year we get a late ice storm; I had no problem with the start time). It's a difficult course and you've got next to no one out there cheering you on. Some folks may go for the scenery but there are tons of races at White Rock; you can see it any time you want.
SPLITS?
7:06
7:23
7:32
7:06
7:57
7:45
7:44
7:56
7:48
8:15
8:59
8:10
8:33
8:59
10:12
8:59
10:04
10:49
10:37
11:15
12:35
11:15
10:51
12:58
12:12
12:43
9:55 pace last .37
OK, WHAT ABOUT THE REAL REASON WE ALL RUN, THE STUFF?
Entrants got a cotton T-shirt in a rather interesting shade of green, and that's it. Marathon finishers got a white tech shirt and a decent medal: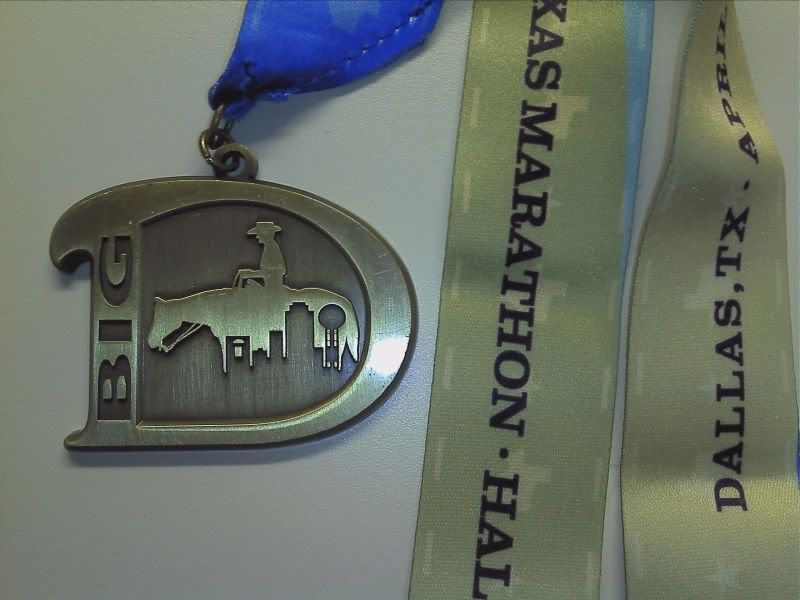 Trouble is, neither the medal nor the ribbon makes clear what race was run. A co-worker who ran the half told me his medal was half as big, but it's a mere coincidence that anyone would know that.
Post-race food thoughtfully included baked potatoes and pizza, which was apparently restricted to full marathoners only. Membership has its privileges.
WHAT'S NEXT?
White Rock Lake Centennial Half Marathon, May 7.