ENOUGH WITH THE SMALL TALK. HOW'D IT GO?
I'm not sure how it worked out this way but of the 70 or so races I've run in the last 3 years, this was the most fun. It wasn't a PR, I didn't run with friends or get lots of goodies, but for some reason this was just a really enjoyable day. I liked the crowds, I didn't feel wrecked at all and my time coming off a 10K PR the day before was not too shabby.
Oh, right, you said enough small talk. I ran a 1:31:42, only about 10 seconds per mile slower than my fastest. I was totally fine with this.
DID YOU WIN?
No, I didn't. I was 166th of 10,969 overall, 142nd of 4,159 men -- check out how much we were outnumbered! -- and 21st of 810 in my age group.
HOW'D THAT HAPPEN?
While everyone else griped about the traffic, I rode in easily on the train. I stowed my gear, warmed up and took my place in the first corral. I felt strong, buoyed by the temperature that was almost 30 degrees cooler than 24 hours earlier.
Even starting in the first wave, I still encountered traffic through the first mile, which kept my pace down -- a good thing. By mile 3 it was obvious that a 6:50 average pace wasn't going to happen, so I just forgot about it and ran my race.
Crossing 75 and climbing the hill past Mockingbird Station was made more bearable by knowing that there were no more inclines the rest of the way -- a good 5-plus miles of slightly downhill running awaited. I played leapfrog with a couple guys coming down Skillman, and after turning onto Haskell I passed a guy at mile 11.4 who commented on how strong I was running. That gave me a good push into Fair Park and across the finish line.
WHAT ELSE?
After volunteering at this race last year, it was fun to be involved as a participant. There are plenty of Rock 'n' Roll haters out there -- including some folks who go ahead and sign up anyway, for reasons escaping my comprehension -- but I am not one of them.
Yes, the races are expensive (although if you are paying sticker price for an RnR race you're really just not a very good shopper). In exchange for that cost, you're getting a formula that has pretty well had the kinks worked out (unless you're in San Antonio and an unscheduled train rolls through). The volunteer operation is staggering and incredibly well run.
You won't find a dry water station or show up at the finish with nothing to eat. You won't have a long wait for a port-a-potty or a long walk to get your drop bag. There's a certain degree of you-get-what-you-pay-for in at all, although there's a notable exception to that I'll get to in a moment.
The course is pretty easy as far as these things go; as I alluded to earlier, all the uphills come in the first 8 miles and none of them will really take your breath away. The segment that passes through Highland Park may be aesthetically pleasing but is not aurally so, as bands are not allowed to play along that portion of the route. Hopefully the course can be reworked to stay entirely in Dallas -- this is supposed to be about rock & roll, after all.
SPLITS?
6:58
7:02
7:01
6:57
7:14
7:10
7:08
7:04
6:52
6:57
7:00
6:49
6:48
6:07 pace last .12
OK, WHAT ABOUT THE REAL REASON WE ALL RUN, THE STUFF?
The tech shirt is average, and the goody bag was surprisingly sparse. I would've figured that the size of this race would draw more interest from folks wanting to toss in some free samples or whatnot, but that wasn't the case (of course, there could be more to this behind the scenes). And the medal.... I have to tell you, the more I look at this medal, the less I think of it. The ribbon is thin and plain red, distinguishing itself in no way at all. I get the medal concept of the Texas Star, but the execution is poor: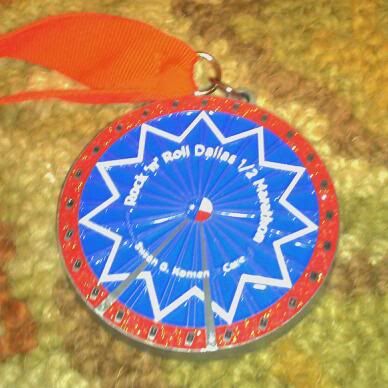 Last year's, by comparison, was much better:
WHAT'S NEXT?
Big D Texas Marathon, Apr. 10.