ENOUGH WITH THE SMALL TALK. HOW'D IT GO?
At 3:20:41, this was my 4th fastest marathon of the 10 I've run, but on by far the hardest course, and coming off a 4-week stretch in which I could not run longer than 7 continuous miles before pain in my left leg forced me to stop. So I'm calling this my best race ever.

DID YOU WIN?
Pretty damn close, actually. I was 7th of 193 overall, 6th of 132 men and 2nd of 20 in my age group. OK, I was 46 minutes behind the winner, but still.

HOW'D THAT HAPPEN?
I'll start the story on Saturday, when I decided I'd actually try to keep a count of my carb intake to see if I could get to the recommended 700 grams. There was plenty of pasta and pancakes and Clif bars and OJ, and I pretty much felt stuffed all day. It was tough to keep an official count but I was probably somewhere in the mid-600s.
I laid off the caffeine most of the day and went to bed early, knowing a 3 a.m. alarm was waiting for me. But my sleep was restless and interrupted by indigestion more than once. I hit the road around 4 and had trouble staying awake for the 2-hour drive to Waco. I was not off to a terrific start.
After fetching my bib and T-shirt and goodie bag, I went back to sit in the car. I should've learned from New Year's Day to go warm up no matter what, but the cold air was just a little too biting. Since I had no time goal at all, warming up within the confines of the rich wouldn't be a big deal.
And so that's what I did. We headed east for a 5-mile lollipop through part of the Baylor campus. My pace was easy; I felt fine. This was the flat section of the race so I had better be feeling fine.
Coming back through the start/finish area, the marathoners and relayers broke left and headed through downtown. From here on out I ran in virtual solitude. A couple relay runners zipped past me, a couple marathoners passed me and I passed a couple others. But that was it.
We started climbing up Austin Avenue, but the slope was gradual and thus not too challenging. Exiting downtown we ran through a mix of residential areas and main drags. We got a good taste of the nothing that is Waco. I crossed the 13.1 mat just shy of 1:40 -- still making steady time and running without pain, but still well aware things would be getting much tougher soon.
Minutes later, right at the 14-mile marker, there it was: the first big hill. My friends at elevation will scoff at a 68-foot gain over .18 miles, but in these parts, that's a good hill. Just a mile later was an even better one: 135 feet in .2 miles. Mind you, these are notoriously wacky Garmin measurements, but the point is, they weren't joking about the hills.
By this point I was already quite pleased with my day, since I'd gone this far without hurting. But I started to notice an odd phenomenon: I wanted the hills! I NEEDED the hills! With all my focus on Rouge-Orleans, a course with a typical gross elevation gain of about 7 feet over a mile, I'd hardly been running any hills. Now that I was encountering some hills, my legs were almost rejoicing in the new workout. Twenty miles passed and I felt totally fresh. There were more hills to come in Cameron Park, but as I passed the 2nd place female at the moment she was telling her bike-mounted sherpa, "it hurts," I felt like I could go much longer.
At the final real climb around the 24-mile mark, a course monitor shouted to me that I was in 7th place, and the 6th place runner was just up on that bridge, struggling mightily. I was stunned. I knew I was having a good day, but it just never dawned on me that I would be that high up in the standings (even though my finish time would've placed me 6th last year). I tried tracking this mystery person down, but never saw him (turns out the monitor was just throwing out encouragement since I was 2 1/2 minutes behind the next guy).

WHAT ELSE?
This race had a lot of comparisons to the Tyler Rose Marathon for me, which goes to show how performance can color one's view of a race. You might recall I didn't have many nice things to say about that race, but I really can't trash this one even though it had its share of issues (no spectators, skimpy post-race offerings). One major difference aside from how I did is probably why: course marking. Whereas I almost got lost twice in Tyler (and many folks made wrong turns), this course was exceptionally marked with chalk and cones almost the entire way. You could not be confused about which way to go.
It's a shame that the most scenic parts of the course were also the most difficult. Just as we got to the nice views of Lake Waco, the hills hit. And the peace and quiet of Cameron Park? Hills.
Hard to believe, but this was only my 2nd marathon (after Grandma's) in which I did not walk one step. I came pretty close on a couple of the hills, but I kept a running motion and intent, even if I could've just walked at almost the same speed.

SPLITS?
7:34
7:34
7:32
7:28
7:30
7:31
7:30
7:45
7:27
7:30
7:36
7:40
7:37
7:02
7:32
7:48
7:26
7:24
7:52
7:13
7:44
7:57
7:52
7:58
7:29
7:41
8:16 pace last .42

OK, WHAT ABOUT THE REAL REASON WE ALL RUN, THE STUFF?
This race brought the welcome return of the samplicious goodie bag. Where else are you going to get a Snickers bar thrown in? Among the other freebies was a single serving of what's becoming one of my favorite products, Biofreeze Perform. It's all the goodness of an ice bath without the indignity of sitting in a freezing cold pool of your own filth.
The medal is a cool, unique one that can also be used to slit a burglar's throat: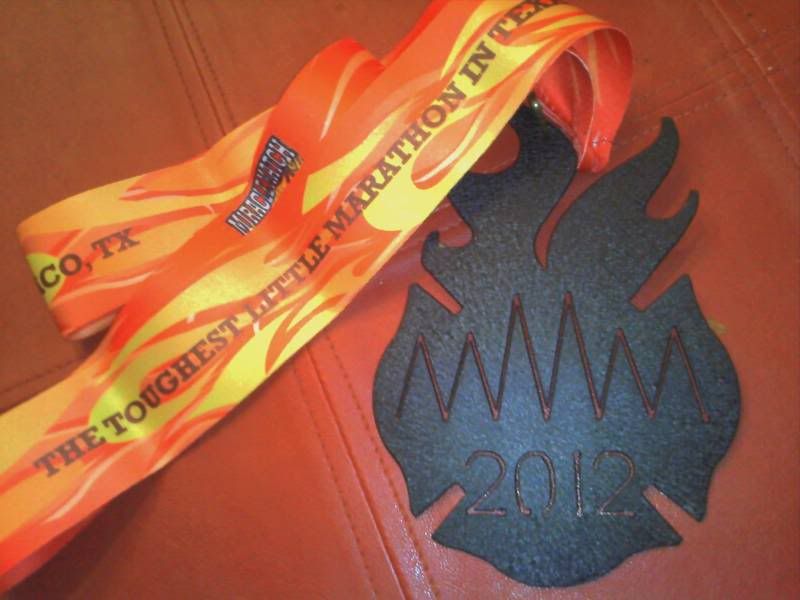 And in lieu of a finisher's shirt, you get a tastefully embroidered windbreaker with the race logo on the left chest.

WHAT'S NEXT?
Rouge-Orleans, Baton Rouge to New Orleans, Feb. 10.