ENOUGH WITH THE SMALL TALK. HOW'D IT GO?
I survived America's Toughest (Double) Road Marathon, moseying along with a small group in 4:45 before working my butt off to run the official race in 4:56:52.
DID YOU WIN?
No, but I didn't plan to, either. The results won't show the asterisk indicating I ran the double, so my 260th-place finish (out of 429) will look pretty out of place compared to my other results. I was 195th of 286 men and 34th of 42 in my age group (at least 2 of the guys behind me were doublers as well).
HOW'D THAT HAPPEN?
The incredible events in Watertown, Mass., on Friday night let me get a very rare few hours of pre-race sleep -- an effort that was wasted when the alarm went off at 1:30 a.m. to direct me to downtown Roanoke. I chatted with a few of the other 15 or so folks running the unofficial marathon and found a variety of resumes: One had just run Boston, a couple had done Western States, others had never gone past 26.2 miles or 50K.
We headed out at 2:30 at an easy, non-competitive pace, generously walking the uphills and coming back down at whatever speed was comfortable (I ran the downhills pretty seriously since restraint would probably wreck my quads and make a long day even longer). I took in the views where I could and noted that Roanoke looked a lot bigger than what I expected.
After mile 20 or so, the group started to break up a bit. I was in between folks, not far behind the 4 or 5 leading the way. I was hoping I might have some extra time between races to tend to my feet and take in some more calories, but about a mile from the finish we stopped to let everyone catch up so that we could run it in as a group. With 20 minutes until the official race start, I only had time to move my bag from someone's car to the bag drop, take a potty break, and line up to go again.
I felt pretty good heading out the second time, but when we got to the first climb I found that my threshold for walk breaks had weakened substantially. Another doubler passed me and I commented that mile 28 was a lot tougher than mile 2. Knowing the course, though, made the climbs a lot easier to manage. I tried to just keep marching and enjoying the view from the mountains.
My goal for the official race was to finish in about the same time as the unofficial race, and through 15 miles or so I was pretty close to that target. Climbing up Peakwood, though, that pretty much went out the window, and I ignored the watch until about 4 miles remained and I realized I needed to keep moving purposefully to come in under 5 hours. I kept the walk breaks to a minimum, which was easier to do with all the hills behind me, but didn't feel completely safe until I was into the final mile. My wife was waiting for me about 50 yards from the finish, handing my daughter to me over the railing for the last dash to the line.
WHAT ELSE?
Running 52.4 road miles up and down mountains is hard work, but it's made much easier with the kind of support we had, especially for the first go-round. One of the runners' wives served as a mobile aid station captain, driving her SUV to various points on the course and meeting us with water, Gatorade, pretzels and so on. A couple residents put tables out in front of their houses with veggie broth, cookies and other items, and a car met us at mile 20 with donuts. That just floored me.
I ditched my gloves early in the official race and then later wished I had them back. Virginia's mountains are tiny compared to the Western U.S. but there's still a noticeable drop in temperature and increase in wind once you get on top of them. I had packed another, cooler shirt to change into for the second 26.2 but was stymied by having to repin my bib. That worked out to my advantage.
SPLITS?
8:59
9:56
12:42
10:59
9:39
14:30
14:00
10:26
8:43
11:30
11:33
12:46
14:27
9:15
9:22
12:06
12:47
15:45
13:08
9:30
10:45
11:17
11:26
11:37
10:44
9:51 pace last .94
OK, WHAT ABOUT THE REAL REASON WE ALL RUN, THE STUFF?
You get a shirt. The "expo", which was just a few tables set up in a small room, had a few giveaway items such as zippered bags and gels. The medal is a good one, though I wish the sponsor name were the size of the race name and vice versa: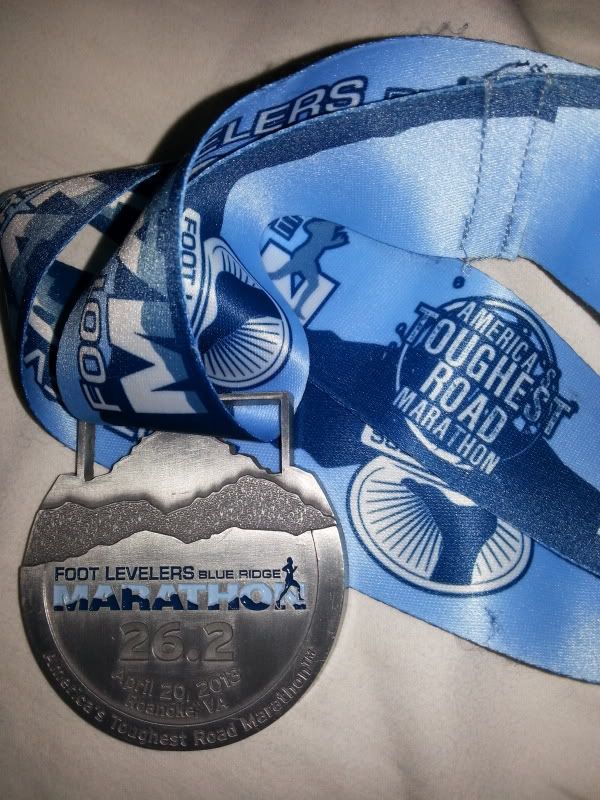 WHAT'S NEXT?
Possum Kingdom Trail Run (52M), Saturday.