ENOUGH WITH THE SMALL TALK. HOW'D IT GO?
My race was nothing to write home about, but I successfully completed a 2nd straight 52-mile Saturday by crossing the imaginary line in 11:48:55.
DID YOU WIN?
No, once again you'd have to linger on the results for a bit to find me: 13th of 22 overall, 11th of 17 men. My pre-race prediction of 10 hours will rank as one of my most ridiculous wild guesses ever.
HOW'D THAT HAPPEN?
My plan for the race was the same as it's been for all my other trail races: Go out fast and get as many miles in as possible before it warms up and I get worn down and have to muddle through to the end (maybe I should come up with a new plan). The first loop went along just swimmingly: the sand didn't seem too deep, the rocks weren't too pokey, the climbs were all completely manageable. There were only two stone-steps areas that slowed me to a walk. When I got back around to the start/finish line safely under 3 hours, amid some pretty strong runners, I felt great about how the day was going. A couple 3:30 loops and I'd be ecstatic!
Well, that didn't last (I knew it wouldn't). Somewhere along the second loop the sun came out and sucked all the life out of me. I'd been continuing to take in calories like I wanted, but my inattention to my water and salt levels was catching up to me. At each aid station I would cram in handfuls of potato chips and wash them down with a few extra gulps of water. I didn't feel much pain -- certainly no effects from the double marathon of a week earlier -- but my heart and lungs were being taxed too easily. After a 4-hour loops, I quit thinking about a finish time.
The last time around was nothing more than a mental struggle to keep moving forward. I wasn't going to quit -- I was way too far along to even think about that -- but making myself run, even a little bit, was tough. Every little rock on the trail was an excuse to walk that section, lest I trip and fall on my face. At the La Villa aid station, the volunteers told me I was in 11th place and there were only 3 people behind me because everyone else dropped. This turned out not to be true, but it was a good motivator to keep pushing (hmm, maybe that's what they had in mind). At the last aid station, I was struggling and took a seat for a few minutes. It was only 2.4 miles to the finish, but I was going to be safely under 12 hours and at that point that was good enough for me. After a few minutes of cold towels on my head and neck, I shuffled off to the finish.
WHAT ELSE?
The trail yielded several great views of the lake. On the first loop and part of the second, I made sure to look off to the side whenever I came to a clearing. But after a while, I lost the patience to look at how far I'd climbed (even though it wasn't that far). The hot sun is an evil, evil thing.
SPLITS?
1st 17.35 miles: 2:46:00 (9:34 pace)
2nd 17.35 miles: 4:03:00 (14:00 pace; 6:49:00/11:47 total)
3rd 17.35 miles: 4:59:55 (17:17 pace; 11:48:55/13:37 total)
OK, WHAT ABOUT THE REAL REASON WE ALL RUN, THE STUFF?
I signed up too late to get a shirt, but I'm sure it's just as high-quality as the one from the other Endurance Buzz Adventures race I've done, Isle du Bois. The finisher award is the same as IdB, too: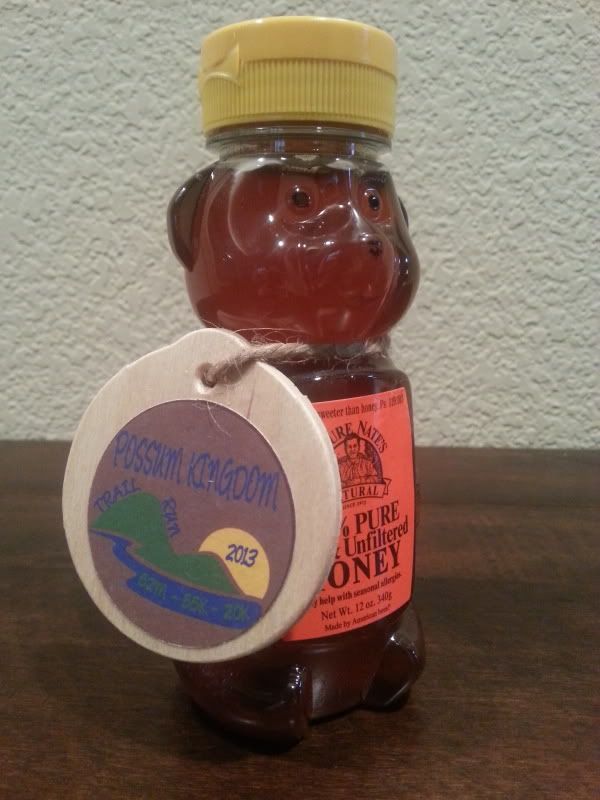 WHAT'S NEXT?
Texas Threesome, May 25-27.