ENOUGH WITH THE SMALL TALK. HOW'D IT GO?
This race was almost identical to last week's 20K, but with it coming on an easier course, I'm less enthused about the result. I ran a 1:32:16, tying the age-graded score from last week as my 8th best race (I'll post the top 10 sometime this week).
DID YOU WIN?
I picked up my 2nd age group award of the month, finishing 2nd of 35. I was 11th of 481 overall.
HOW'D THAT HAPPEN?
It's worth mentioning that my plan to run 4 easy miles Saturday morning morphed into 5 less-easy miles Saturday afternoon. I thought I'd gotten to the point that a 5-mile run would be easily forgotten, but perhaps not.
I got an abbreviated warm-up in as there was hardly any space in which to do so. The road was fenced off a couple hundred yards past the start line until right before the start, and the area behind the start was filled with balloon-gazers.
I lined up in front and rather quickly settled into the 8th spot as the lead group fanned out. Turning onto Los Rios just past the 1-mile mark, I was treated to a great view of the morning balloon launch, with 10 or so balloons rising over the trees to my right. This kept me at ease while climbing the only 2 hills of consequence on the course. It's good to know that after 2.8 miles, the hardest work is done.
At the top of the 2nd hill, I turned sharply back toward the nature preserve (one of 4 sharp turns on the course). I got a look at the runner whose footsteps I'd been hearing just about 4 seconds behind me. I would hear those footsteps for another 5 miles before he finally overtook me at another turnaround point. I don't know if it was getting passed that took the wind out of my sails, or the sudden stop and start of the turnaround, or fatigue from running the day before, but my race was not the same after that. After another runner passed me, I hoped I could hang on to a spot in the top 10, but that was lost with about half a mile to go.
WHAT ELSE?
I commend the organizers for doing their best to put together an attractive course. There is good use of park trails and the nature preserve to keep things scenic. But 4 turns of basically 180 degrees are stressful, and beyond that, there were hardly any views of the balloons after that early stretch on Los Rios.
Also, the finish area was way too congested. The last 100 yards or so had the half marathoners merging with swarms of 5K runners, with no barrier to separate them along a narrow path. And with volunteers handing out medals just steps beyond the finish line, also in a narrow fenced-in area, there was little room to move.
On the positive side, the post-race breakfast of bacon, eggs, muffins, yogurt and OJ was quite strong. When you see a race with any ties at all to Central Market, consider that a plus.
SPLITS?
6:48
6:55
6:50
6:50
6:56
6:49
6:46
6:59
7:07
7:13
7:26
7:20
7:20
6:31 pace last .15
OK, WHAT ABOUT THE REAL REASON WE ALL RUN, THE STUFF?
The finisher's medal is a substantial piece of hardware on which you could serve a small stack. The age-group award, on the other hand, is a small, plastic budgetary afterthought: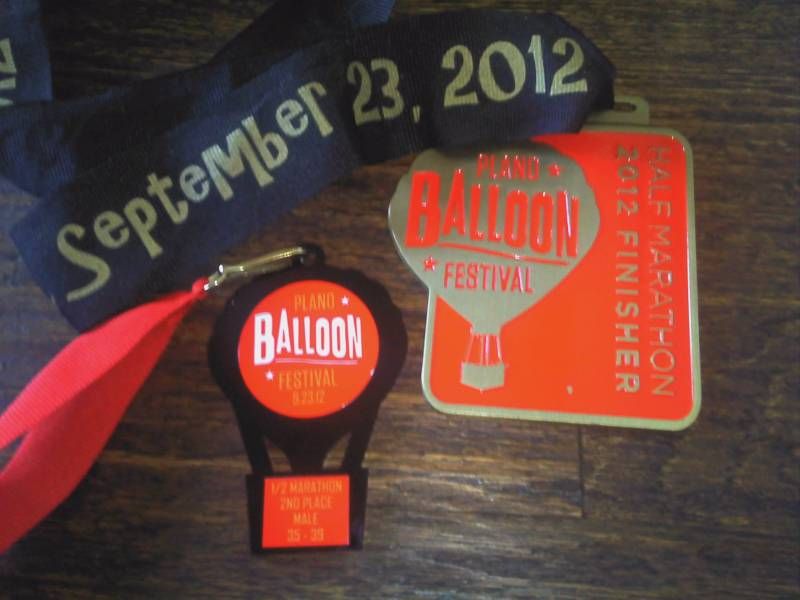 WHAT'S NEXT?
8-Hour Run from the Ducks, Saturday.