ENOUGH WITH THE SMALL TALK. HOW'D IT GO?
I faded late and finished in 1:04:41, a couple minutes shy of my July PR but still a couple minutes ahead of my time at this distance last summer.
DID YOU WIN?
I collected a trophy for finishing 3rd in my age group (of 11) and 8th overall (of 164). I threw out the bold prediction that I'd have a shot at winning based on my time from Too Hot to Handle and the winning time at this race last year, but even with a PR I'd have only placed 1 spot higher. Clearly those other 6 dudes read my blog.
HOW'D THAT HAPPEN?
I tried to hang back a little over the first mile, since that worked so well last time, but soon I had sped up a little too much. I was through 5K in 20:56, 18 seconds faster than Too Hot to Handle. After that point, the small race field made it hard to track anyone down (or hear any footsteps). I went about my business until the guy in front of me missed the turnaround and I slipped in front of him. (He only lost about 15-20 seconds and passed me in the last mile, so it all evened out.)
On the way back I started feeling some fatigue around mile 7. The late fade I escaped in my last race made an unwelcome reappearance, and the segment along Mockingbird to the finish was a struggle (the hill a mile from the finish was a short but firm ass-kicker). To top things off, my left shoelaces came untied with half a mile to go. That was a first.
WHAT ELSE?
For a couple weeks, my 2-year-old daughter had been waking us up at random points in the middle of the night, generally within arm's reach of 2:30. We got her a new pillow, and that stopped (probably a coincidence). But now she's on a kick of getting up at 5:30, so my wife decided that the two of them would come along and cheer me on since they were up anyway. It's a fun thing to push hard to the finish when they're out there rooting for me
.
SPLITS?
6:48
6:43
6:37
6:47
6:54
6:46
6:47
7:09
7:21
6:54 pace last .41
OK, WHAT ABOUT THE REAL REASON WE ALL RUN, THE STUFF?
OK, I hate to be the guy who complains about the quality of awards at a low-key race, but here I go. The problem with the awards is this: Everyone in the 15K gets a medal, but the awards run so deep that by my very rough math, 63 percent of finishers got trophies. Ditch the finisher medals and upgrade the trophies, or give everyone a medal but only give trophies to age-group winners. Going 5 deep for trophies is goofy when some age groups don't even have 5 finishers.
But for reference, here are the medal and trophy (apologies for the fuzziness; my usual picture-taker is temporarily out of service):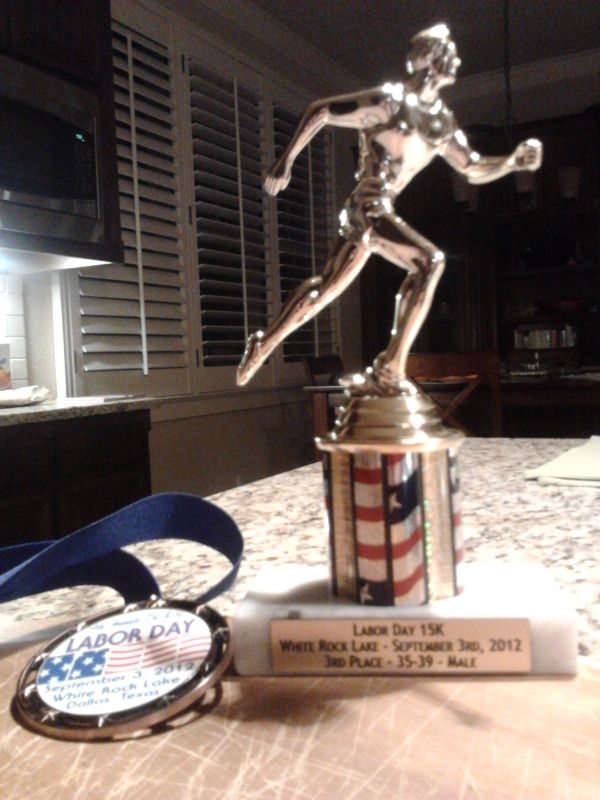 WHAT'S NEXT?
Get Ready to Rock 20-Mile, Saturday.