ENOUGH WITH THE SMALL TALK. HOW'D IT GO?
After a dud the weekend before, I was back to my old tricks, burning a couple laps around White Rock Lake in 2:10:49.
DID YOU WIN?
Almost! I was 2nd of 78 overall and picked up my first career prize money, a $50 check that basically refunded my entry fee. I was 2nd of 35 men and 1st of 5 in my age group.
HOW'D THAT HAPPEN?
I'd run two laps around the lake before, but never in a race, so figuring out my pacing was a little tricky. For a half marathon, I keep the first mile relaxed, turn up the effort starting with mile 2 and hold that level of exertion until mile 10 or 11, when I head full-throttle to the finish. My splits never reflect this because of adrenaline and fatigue, but that's what I aim for.
I decided for this race I would try to stretch that opening-mile phase out to 5 miles and then resume a half marathon effort from there. But I quickly questioned my plan when, not long after the first half-mile, I could no longer hear the footfalls of the third-place runner behind me. My watch told me I was going the right speed, but I figured I'd be 6th or 7th like I've tended to be in these races so maybe everyone else knew something I didn't.
I won't lie to you; I remembered the money long before going up the ramp to go across the Mockingbird bridge (the race started at Winfrey Point with a counter-clockwise lap to a turn-around at the start/finish line). I looked back down the hill to see not only where the next runner was, but the one behind him (since 3rd place got $25 too). Couldn't see him. Meanwhile, the leader was starting to escape from view, but this was not a concern.
Turning left and heading south along the west side of the lake, I was now presented with a headwind. It was nothing like the weekend before, but it got me thinking about the rest of the race and where the wind would be. I'd be running the last couple miles into the wind. Don't worry about it, I told myself, there are many miles between here and there. I had a brief moment of panic at the short out-and-back section at mile 6.6 when a couple runners came up the sidewalk behind me -- kind of an odd place to turn -- but they kept going straight.
Approaching Winfrey Point and the end of the first lap, the lead runner passed me coming the other way at 1:03:53. I turned around at 1:04:41, so I was a little over a minute and a half back. Going the other direction, it was hard to tell which runner was next, since some folks looked to be running hard but didn't have visible bibs. I guessed I was at least 3 1/2 minutes ahead of 3rd.
After the turn, I found myself running just behind another guy out for a training run who just happened to be running just a hair faster than me. I tried to slip in behind him to block the wind, and soon we were pushing each other: he would surge ahead a few meters, I would gradually catch up to him, and he would surge again. A little past the spillway he turned to me and remarked that the last mile was 7 seconds faster than the one before. I kept chasing him until losing him at another out-and-back at mile 12.
Those couple miles took some strength out of me, but my spirit would soon be renewed by the sight of the lead runner way out in front of me. By the time we got back to Mockingbird I could clearly tell I was closing on him, and by the mile 16 marker I was less than 25 seconds behind. But he pulled it together and I ran out of gas, leaving me 43 seconds short.
WHAT ELSE?
Since my DNF at Old Dominion, 5 of my best 7 races ever have come in the past 4 months or so (this one was #2). Funny, I don't feel 37....
I think I mentioned this in my review of the Labor Day race, but I'll bring it up again. White Rock Racing must've gotten an incredible bulk deal on trophies. More than twice as many folks took home age-group awards than not. They can do whatever they want; it just seems silly. Cut back on the awards and give the savings to For the Love of the Lake.
SPLITS?
6:55
6:51
6:57
6:45
6:51
6:59
6:58
7:05
6:57
6:51
6:42
6:47
7:07
6:59
7:05
6:58
7:12
7:23
7:21 pace last .75
OK, WHAT ABOUT THE REAL REASON WE ALL RUN, THE STUFF?
You get a tech shirt for signing up, a medal for finishing, and in all likelihood, a trophy too: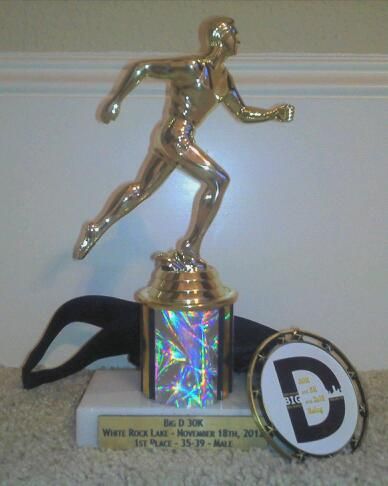 WHAT'S NEXT?
North Texas Turkey Trot 10K, Thursday.