ENOUGH WITH THE SMALL TALK. HOW'D IT GO?
Three weeks after a 100-miler, on an arch strain that's not fully healed, I set a new PR of 1:29:13. It was easily the highest age-graded score I have recorded; in other words, my best race ever.
DID YOU WIN?
Obviously I won on a personal level, and in a smaller race I might've actually gone home with something. But an age group prize at this race is still a ways out of reach. I was 5th of 147 in my age group (more than 2 1/2 minutes behind 3rd), 54th of 917 men and 61st of 1968 overall.
HOW'D THAT HAPPEN?
When I found out just a couple days before the race that there would be a 1:30 pace team, that became my plan. I went off with a pretty big group of folks, which made it harder to run the tangents for the first couple of miles (why the majority of people continue not to do this is one of the great mysteries of running).
The group thinned out a little as several folks went on ahead. I felt like I could move in front as well, but since we were already on a pace that would put me close to a PR, I stayed with the pacers rather than risk a late fade. Here and there I wandered off, such as at the top of the hill on Sperry (mile 5.4), but each time I eased up to fall back to the pacers. I crossed the 10K mat in 42:23, 7 seconds under my very soft 10K race PR.
The pacers had been hammering the downhills somewhat, so coming down White Rock Road and turning onto Winsted I did the same, once again getting a little out in front of the stick. I stayed in front this time, figuring they would catch me going up the hill by the spillway, possibly my least favorite hill in all of Dallas. But they never overtook me, and turning north to head up the east side of the lake I decided to push on without them.
Seeing Lesley and Adam watch me pass a couple guys at Winfrey Point (9.6) was a big boost. I looked back a little later to see the pacers only about 10 seconds behind me, but I ran the numbers in my head and figured they were going under their target so I would be OK... and in the end, I was.
WHAT ELSE?
Not sure what it was about the day but I heard of many other folks also setting new personal bests, many by several minutes. Most of them were like me in that they've been doing these for a while, too (this was my 17th half marathon, I believe). It's inspiring to see your friends bringing their times down, but it's also a good reminder that when you're sitting around feeling like not doing anything, someone else is out there out-working you.
The winners of the race got cash prizes, but I will be kicking myself for weeks for blowing a chance to make some money on myself. This was my first chance to try HealthWagers, a new site that gives you a time to beat based on past performances and pays out (pari-mutuel style) if you beat it. I was given a time to beat of 1:32:15, which seemed like a piece of cake, but I held off because I wasn't fully confident in my foot. Looks like I missed the boat; they've set a challenge time for my next race that is way out of reach.
SPLITS?
6:44
6:50
6:43
6:53
6:39
6:45
6:49
6:53
6:48
6:46
6:40
6:46
6:48
6:36 pace last .18
OK, WHAT ABOUT THE REAL REASON WE ALL RUN, THE STUFF?
You get a long-sleeve tech shirt for entering. Lakewood Brewing Company provided the post-run local beer, and Freebirds served up some tasty breakfast burritos. For the medal, the glitter option was checked, circled and highlighted: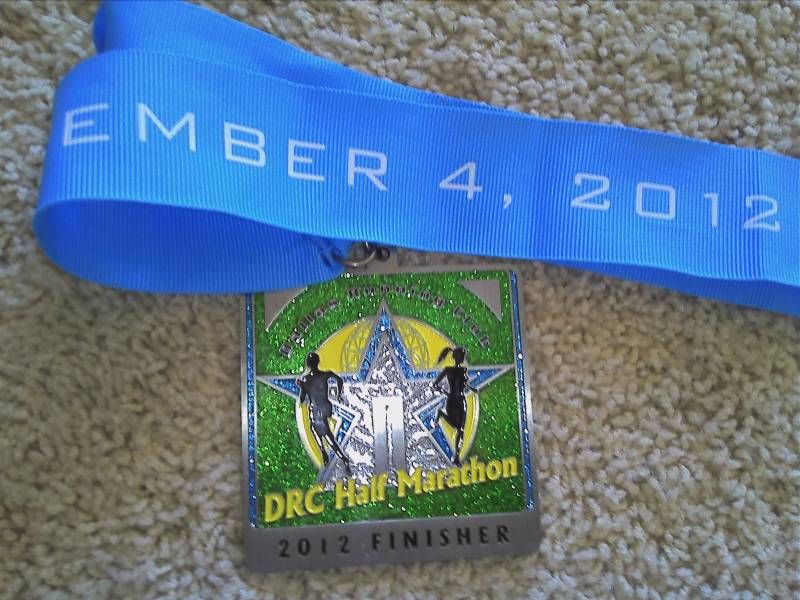 WHAT'S NEXT?
Arbor Day Run 10K, Saturday.