ENOUGH WITH THE SMALL TALK. HOW'D IT GO?
Thanks to suffocating humidity and a pretty big mistake on my part, the race turned out to be much tougher than I expected. I was well over half an hour short of my quite soft PR, finishing in 5:15:31.
DID YOU WIN?
I expected a small turnout, but not as small as 4 starters and 3 finishers. I came in 2nd, almost 90 minutes back of 1st and more than 2 hours ahead of last.
HOW'D THAT HAPPEN?
I got to the 4 Pines Ranch about an hour before the race, picked up my bib and shirt and got myself ready for the race. I had a little time to kill so I set out along the course to get a preview. I wasn't going to run the whole 5K loop; I knew of a spot where I could make a shortcut back to the start.
The problems here were twofold: I didn't snip as much of the course as I thought with my shortcut, and I didn't have nearly as much time as I thought. This colossal and inexcusable screw-up led to me running virtually an all-out mile back to the starting line so as not to miss the start.
Fortunately the race started closer to 7:06 than 7, but I was whipped. I was huffing and puffing and sweating buckets walking down to the starting line. I couldn't believe I had put myself in this position. I started the race at a reasonable pace, hanging with the 2nd-tier group of 25K runners, but they would soon lose me, leaving me to spend the next 4-plus hours running pretty much alone.
By the halfway point, my 4:40 PR was quite safe, as was my second-place finish (this was actually safe before the gun went off). Conditions swayed back and forth between sunny and ominous, but it was warm and humid the whole way. All of these things sapped my motivation and I just pushed for a finish.
The only real questions over the last few laps of the race would be whether the leader would lap me a second time (he did, near the end of his 9th lap) and whether I would finish before the last 25K walker (I did, passing her with 2 miles left on our respective final laps). I hung out in the timing tent for a few minutes, chatting with the RD and timer and a couple runners who'd stuck around, before heading home.
WHAT ELSE?
The grass course was in very good shape, given that just a few days earlier it had rained so much the property owners nearly forced the event to get pushed back a week. I ran in the same shoes as Boston and Big Sur and had no problems.
In post-race follow-up with the race director, I learned he's thinking about another event in late October in the same location. I immediately suggested a night race -- just before Halloween, full moon... just stack up some strategically-placed hay bales and get a couple of schoolkids to jump out and scare the crap out of you. That could be an event to get on your radar.
SPLITS?
(by 5K)
24:57
27:06
29:12
28:18
31:21
31:23
33:21
36:18
38:21
35:14

OK, WHAT ABOUT THE REAL REASON WE ALL RUN, THE STUFF?
The low-dough nature of this event means you just get a T-shirt for running. My 2nd-place award was this nice wood plaque (I wonder if it came from one of the 4 Pines):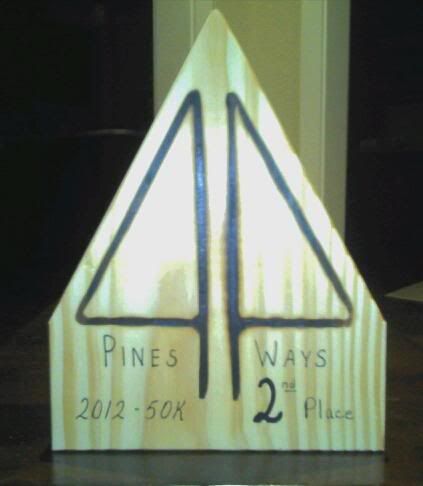 WHAT'S NEXT?
Old Dominion 100, June 2.