ENOUGH WITH THE SMALL TALK. HOW'D IT GO?
I thought I'd beat my Boston time, but I surprised myself with an 18-minute drop to 3:22:31, less than 10 minutes off my PR on a difficult course made even tougher by occasional quite strong headwinds.
DID YOU WIN?
On a percentile basis I had one of my more impressive placements to date, finishing 127th overall out of 3364, 117th of 1786 men and 25th of 270 in my age group.
HOW'D THAT HAPPEN?
The downside of saving a few bucks by staying in Salinas was a 2:15 a.m. wake-up to drive the half hour or so to Carmel to catch the 3:30 bus to the start
. Like most people, I never sleep well the night before a race, but this took it to a new level.
The bus-loading process was pretty painless, and on the way down to Big Sur I tried at first to take note of the hills. Eventually I quit paying attention because it wasn't like I could just wish the hills away. My race plan, whatever it may have been, wasn't going to change now.
After two full hours of standing around, we filled in the starting chute. I turned on my Garmin only to find the battery was dead. (This has happened twice in the last few weeks. The maid needs to quit messing with my stuff.) I went ahead and started with the 3:35 pace group, figuring that would probably take care of my need to worry about my pace.
The start felt like a repeat of Boston as we dropped down a steep downhill right off the bat -- only this hill kept going further and further down. I knew going in that the course had a net downhill of 275 feet and it felt like we were using it all up in the first couple of miles. I left the 3:35 group behind as that pace was just way too easy. Maybe I'd see them later, but without having my watch to rely on, I'd just have to run at whatever speed felt right.
After we passed mile 5, we left the protection of the redwoods behind and got our first taste of the wind. It wasn't bad at first, but gradually it picked up. Past the 6-mile mark I was within range of the 3:25 pace group, so I sped up to fill in behind them and let them block the wind, which was now blowing from the northwest at a steady 15-20 mph, right in our faces. I stayed with the pack for the next 3 miles or so, saving energy until an eastward turn put the wind at my back and my fresher legs zipped ahead.
That energy would be drained soon enough while making the big climb to Hurricane Point. The 3:25 pacer and a much smaller group of followers made their way past me as I huffed my way up. When I got to the top and turned to look back, as everyone said I should do, there was nothing to see but fog. In front of me, runners even 20 feet away were fuzzy and misty. And the wind was still blowing.
Coming down the other side, my legs were not in the mood. I thought I'd be able to glide down a drop that was just as steep as the climb, but I just couldn't get my cadence up. Crossing the Bixby Bridge at the halfway point was a wonderful distraction (more on this shortly) but I was mentally preparing myself for a slog to the finish.
Fortunately, the course was thick with walkers and joggers in the 21-mile event. Continually passing people kept me going, and after a while I was feeling better. The hills rolled up and down, the fog rolled in and out, and I kept chugging along, eventually catching back up to the 3:25 group around mile 18. He and I would leapfrog each other a couple of times over the next several miles, and I finally went ahead of him for good at the top of the last hill with less than a mile to go.
WHAT ELSE?
I ran this race as the back half of the Boston 2 Big Sur Challenge. In many ways Big Sur is the anti-Boston. It's on the opposite coast, of course, and the physical setting is vastly different. There are no spectators whatsoever until very close to the finish. And with a number of other distances offered, with at least a couple of them untimed, the target audience is not the elite crowd you'll find in Boston. Nevertheless, it's a race I highly recommend to anyone, as the scenic beauty is just unparalleled.
A lot of folks, myself included, were bummed about the fog. Here we are at the most scenic marathon in North America and we can hardly see a thing. There were a few breaks where we got clear views of the coastline, and one of those happened to be while crossing the iconic Bixby Bridge. The runners around me were silent, and all we could hear was the pounding of pavement and the music from the piano on the other side of the bridge. It was, bar none, the most beautiful moment of my running career. That scene alone is worth the price of admission.
One area for improvement is the setup at the start. The state park facility is just too small to handle thousands of runners. I stood in one spot for 2 hours simply because there was just nowhere to move around. I felt this once the race was underway, as it took a few miles to really get loosened up. Unfortunately I don't know that there's any solution other than putting a lower cap on the field. A wave start wouldn't work and a course change is not possible.
And one more note... I am big on running tangents. That seems like a no-brainer but you'd be shocked at how many folks leave more work for themselves by taking the long way. Even in Boston there were masses of folks not taking the inside curve on flat road. But at Big Sur, taking the shortest path usually means dealing with a severely tilted (cambered) road. I did it anyway but you could surely make an argument that repeatedly maneuvering across sharp slants is more trouble than it's worth. I'd be curious to know from Big Sur veterans what they think of running the shortest course vs. staying on the flatter edges of the road.
SPLITS?
5 mi: 37:46 (7:34 pace)
13.1 mi: 1:41:21 (7:44 pace)
15.6 mi: 1:59:19 (7:39 pace)
22 mi: 2:48:24 (7:40 pace)
26.2 mi: 3:22:31 (7:44 pace)

OK, WHAT ABOUT THE REAL REASON WE ALL RUN, THE STUFF?
My participation in Boston 2 Big Sur got me a few extra perks, like a nice finisher's jacket, VIP tent access with plenty of available seats, and a complimentary entry to the post-race party. Of course, I paid a much higher registration fee, but I'd say it was worth it. The "goodie bag" was all online in the form of coupons you could print at your leisure, but none appealed to me. As my wife said, the medals are about as California as you can get: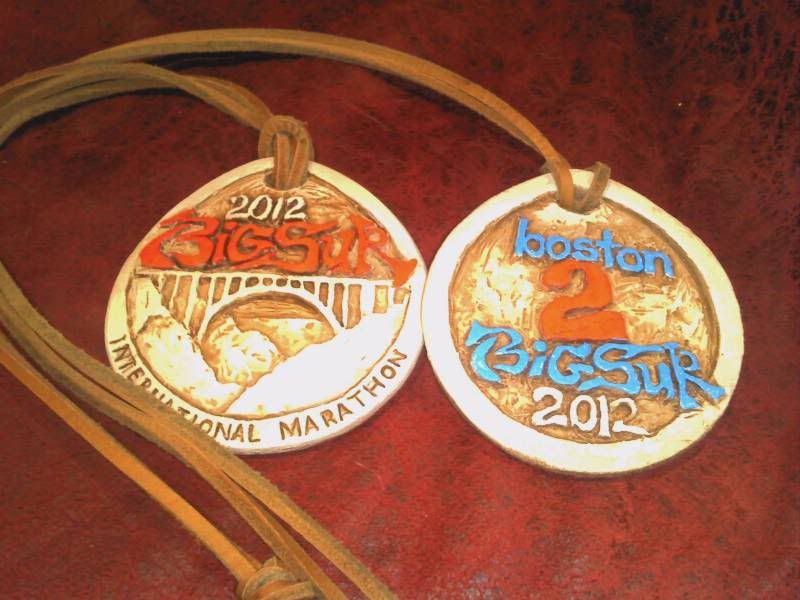 WHAT'S NEXT?
Katy Trail 5K, May 10.